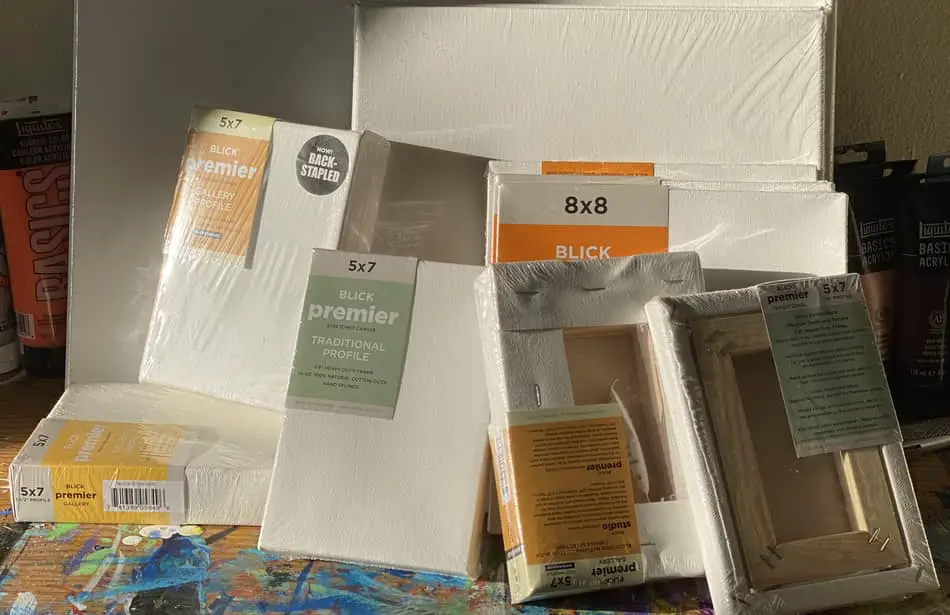 When you first start shopping around for canvases, especially if you're doing it online, it can be quite confusing. Heck, I've been painting almost 2 years now and only just recently realized how many different types of canvases there are.
Canvas for acrylic painting comes in a variety of forms that include:
Stretched Canvas – Canvas stretched over a box frame and stapled in the back.
Canvas Rolls + Stretcher Bars – Some artists will build their own stretched canvas using canvas rolls and stretcher bars.
Canvas Boards and Panels – Flat canvas board panels hung up in frames.
Canvas Pads – Cheap and mobile painting pads for acrylic painting on the go.
Which canvas you will want to go with depends on a number of factors that you will want to consider.
What art you are producing and what kind of final product you want to produce will weigh in on your decision making.
Do you want to be able to hang your painting as soon as it's completed or do you want to put it in a nice glass frame? Are you looking to save some money? Do you want to mass-produce paintings all at once?
Let's explore canvas a bit more in depth to see what all of our options are!
If canvas isn't really your thing and you are more interested in painting on wood, check out this page on wood for acrylic painting!
Related Posts:
What You Should Know About Stretched Canvas
When you think about canvas, stretched canvas is likely what comes to mind. At least it is for me.
The thing about stretched canvas you need to know is that it comes in a variety of options.
The main differences between those options are the depth of the frame the canvas is stretched onto and how the canvas is stapled to the frame.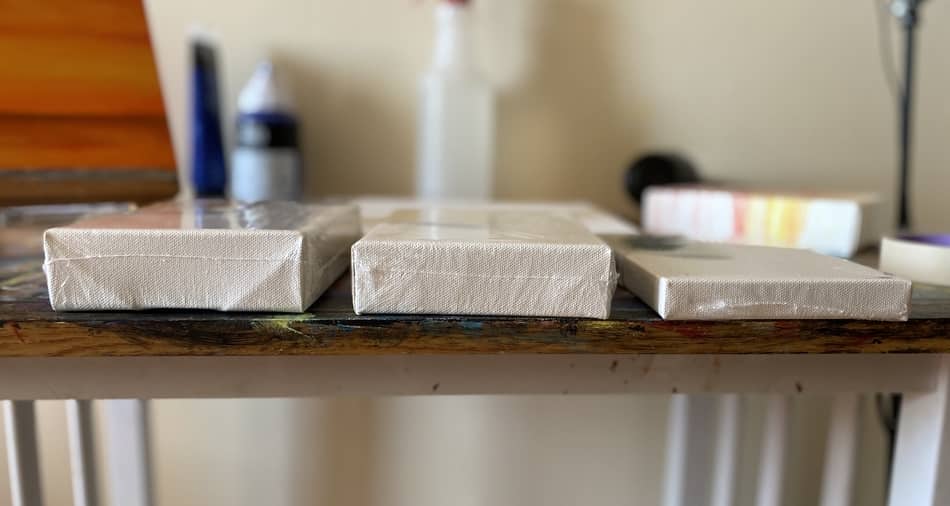 Traditional Profile – This canvas is either 3/4 or 7/8 of an inch in depth.
Gallery Profile – This canvas is 1 and 3/8 inches in depth.
Museum Profile – This canvas is 2 and 3/8 inches in depth.
Academic – This canvas has a profile of 5/8 of an inch.
These depths may actually vary depending on the manufacturer of the canvas. These are the depths of the Blick Premier Cotton Canvas found here over on DickBlick's website.
The main thing to keep in mind is how thick you want your painting to be. A thicker frame tends to be used by more advanced artists selling high-quality paintings at top notch prices.
The other common differences between them are how the frame is constructed and how the canvas is stapled to the back of the canvas.
These difference are commonly referred to as staple backed vs splined.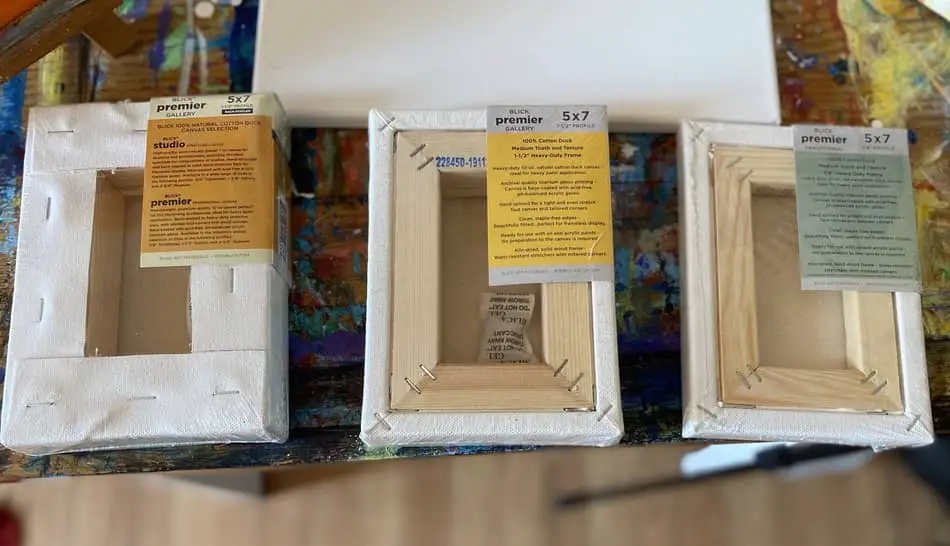 It seems the main reason to make this distinction is that canvas can become loose with time. If your canvas is staple backed it will be far easier to remove the painting from the frame and re-stretch it on to a new frame.
When the canvas is splined it is wrapped a lot more tightly and stapled in a way that the canvas is tucked into the construction of the frame. You can see the difference between the two options in the picture above.
This helps to prevent the canvas from becoming stretched out over time. Preventing it from looking loose and floppy.
The downside to this is that if that does happen with the painting, later on, it is much more difficult to re-stretch the painting over a new frame.
Why You Might Want Canvas Rolls
Canvas rolls are used by artists for a variety of reason. In general, this is a product that is far more suited for more advanced artists.
Sometimes there is a canvas size that you might want that you just can't find anywhere else. This is where buying canvas roll can come in handy.
If you found yourself needing to do this you would need to buy your canvas roll and stretcher bars and get to work building your own canvas.
If you have never done this before and want to give it a try there are even kits you can get to help you learn the ropes before you decide to buy these materials separately and in bulk.
Something like the Fredrick Pro Series Cotton Canvas Kit is one way to get started building your own canvases. Be sure to examine your options carefully and do a bit more research on how to make your own stretched canvas painting before making your purchase.
I will provide a resource for this later when I get being ready for this level myself but I'm not quite that advanced just yet.
Another thing to consider is ways to reduce costs and increase output.
At a certain point in your art career, you may also want to reduce your material costs by buying canvas rolls in bulk.
While there are certain cost savings to buying stretched canvas in bulk from somewhere like DickBlick.com, the cost savings from buying canvas rolls in bulk is even more!
I have heard some artists will mass produce multiple paintings at once by unrolling the canvas out and doing one large ongoing painting and then slicing it up and putting it into frames.
This method doesn't even require you to stretch it onto a frame! I'm sure you could though if you wanted to.
I honestly can't wait to get to a point where I can try some of these ideas out myself!
Canvas Boards and Panels: A Variety of Price Options
Canvas boards and panels are a slight step down in cost from stretched canvas styled options. It really depends on the type of panel canvas you purchase and how much of it you purchase at once.
To compare the costs a bit between your options lets look at an example.
Over at dickblick.com, Blick offers the Blick Academic Cotten Stretched Canvas at a size of 9″ x 12″ costs $4.16 per 2 pack if you buy 10 or more.
So if we buy 10 of those that will bring our cost roughly to $41.60 before taxes and shipping. We will call it $42 for 20 canvases or roughly $2.10 a canvas.
To compare that to a panel canvas option of the same level, you can get something like the Blick Economy Canvas Panel Classroom Pack of 24-panel canvases for $35.65. That brings your cost down to roughly $1.50 per canvas.
Ultimately saving you $0.60 a canvas. So if you end up painting 100 canvas paintings of this size you would save $60.00.
The cost does vary substantially depending on the quality of the panel you're looking at getting. Some panels have better "archival quality" than others.
The Heavyweight Cotton Archival Panel measuring 9″ x 12 " costs $8.83 PER PANEL! That's only if you buy 12 or more too!
Ultimately, I think what you want to use will depend on where you at in your art journey. If you're at the beginning of your journey I personally would push you towards getting stretched canvas.
For me, I'd rather spend a bit more to get stretched canvas so I can easily hang it on my wall when I finish it.
I think that when you're first getting started that hanging your art up where you can admire it and be inspired by it is important towards fueling your progress.
That's just my personal opinion and philosophy though!
Canvas Pads: The Most Affordable Option!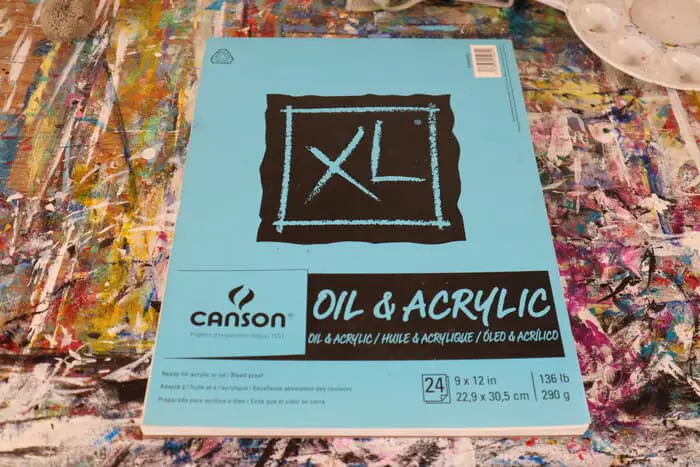 Canvas pads are not only a cheap option for painters to get the creative juices going but they can also be used for doing art on the go!
Just like a regular sketch pad, you can easily take your canvas pads with you for a day out on the town painting.
Perhaps more importantly, canvas pads are probably one of the best options for beginners to experiment with while saving on their costs.
The Blick Studio Canvas Pad comes with 10 sheets at a size of 9″ x 12″ and runs at a cost of $0.83 cents per sheet.
When compared to some of our canvas options of the same size that we discussed above this is a HUGE savings by comparison!
Plus, if your paintings come out good and you do want to hang them you can always throw them in a frame for all to see.
The other benefit to using canvas pads when you're first starting is that they are a really great way to build up your confidence. When you're painting on a stretched canvas you may feel a bit more pressure not to "mess it up" because don't wan't to waste the canvas.
This is a feeling you really ought to ignore because you can always paint over any mistakes but until you get that far painting on canvas pads is a good way to overcome those sorts of worries.
You can experiment and try things a bit more freely. It allows you to feel okay about making mistakes and racking up the failures. The quicker you fail the quicker you will succeed!
So grab your canvas pad at DickBlick by clicking here and start painting today! Stop thinking about it and do it!