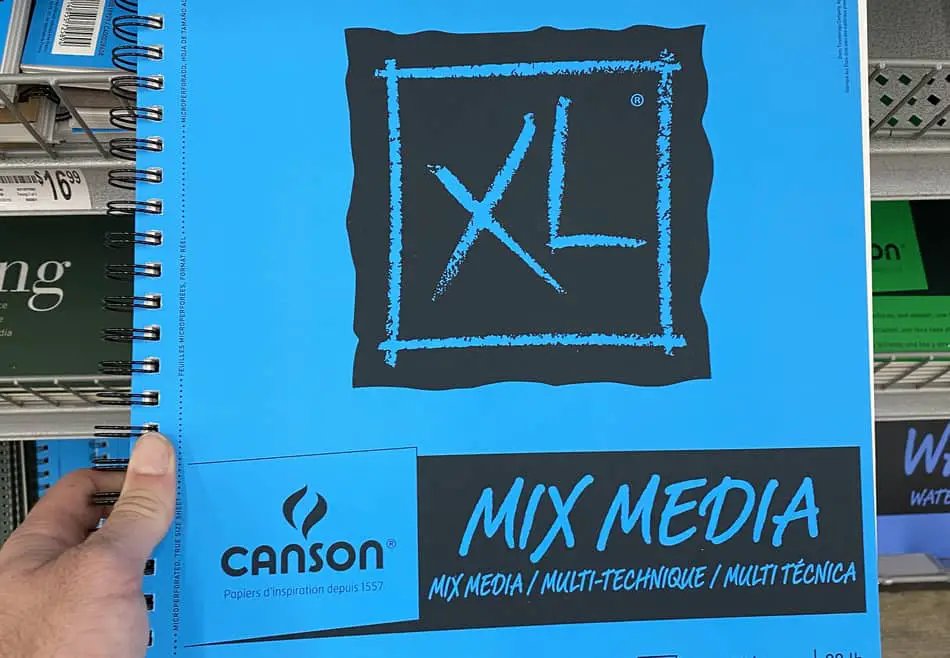 When it comes to acrylic painting on paper you are going to want to use paper that is specially made for this purpose. If you use regular paper it will end up warped and gross. YUCK!
The acrylic painting paper and pads you are looking for are:
Canson – Has options that are good for both oil and acrylic painting.
Strathmore – Has a variety of sizes in two different weights.
Bienfang – Has four different size options all weighted at 182 lbs.
Gumbacher – Offers two different sized wire-bound notebooks.
Arteza – Has both acrylic painting pads and mixed media pads.
Each of these brands has great options to help get you moving down your are path with a bit more speed!
Being able to produce more paintings is always a good thing! Quantity increases quality!
Now that we know which paper we should be using for our acrylic painting practices let's figure out which one might be the best for you.
If you're more interested in learning about the types of canvasses you might like to try then check out this page instead!
Related Articles:
A Quick Reference for Acrylic Painting Paper
When it comes to the best paper for acrylic painting for you that really depends on a few things.
How much do you want to spend? Is your main goal to keep your costs as low as possible while you try out new painting techniques?
Are you looking to explore a bit of mixed media? Do you want to work in other mediums than just acrylic paint?
Whatever the case is there are plenty of options to choose from in size and price. Let's dive right into the variations on sizes, prices, and weights of paper you may be interested in getting.
The Strathmore 300 series of canvas paper pads have 6 options to choose from over on the DickBlick Site.
| | | | |
| --- | --- | --- | --- |
| Sizes | Colors | Sheets | Price |
| 9″ x 12″ | White and Black | 10 | $6.72 |
| 12″ x 16″ | White and Black | 10 | $11.20 |
| 16″ x 20″ | White and Black | 10 | $19.16 |
Strathmore 300 Series Pricing Chart (115 lbs)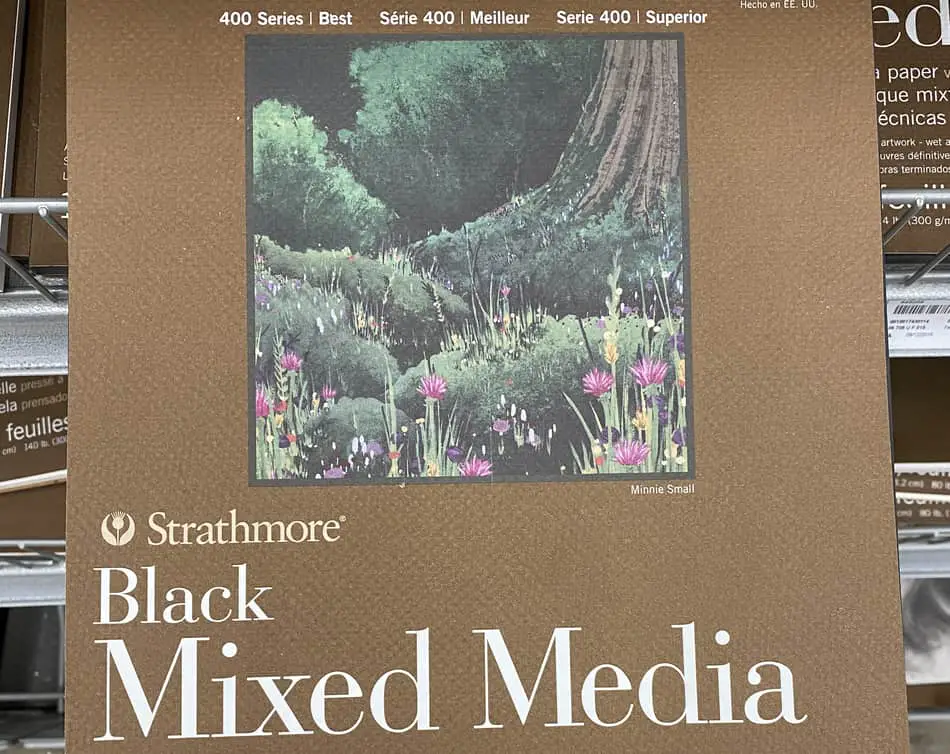 These would all be great and very cost-effective options for anyone looking to paint more and worry less about costs. The 9″ x 12″ option would bring your cost per painting down to 67 cents!
I personally like that they offer black colored paper too as it makes it easy to create galaxy paintings or other paintings that require a night sky! They are the only brand on this list that has an option other than white.
Another great option on the DickBlick site is the Canson Foundation Canva-Paper Pads.
| | | | |
| --- | --- | --- | --- |
| Sizes | Color | Sheets | Price |
| 9″ x 12″ | White | 10 | $9.23 |
| 12″ x 16″ | White | 10 | $15.78 |
| 16″ x 20″ | White | 10 | $25.99 |
| 18″ x 24″ | White | 10 | $34.33 |
Canson Foundation Canva-Paper Pads Pricing Chart (136lbs)
You can see that Canson doesn't have as many color options but they have an extra size option. Their prices run a bit more but weighted at 136lbs it is a bit more sturdy of a painting surface.
Thus requiring a bit more material and a bit more cost. This still will keep your cost per painting down to 93 cents per painting. So really not THAT much more in cost.
Grumbacher Acrylic Pads and Arteza Mixed Media pads are both options that provide something that is more like a notebook.
I like these options as it seems like they would be something I might want to carry with me. Something to use if I wanted to paint on the go.
How I would bring paints along with me I'm not sure just yet. Perhaps some acrylic paint pens would be good for using these sorts of pads to paint on the go. They are definitely useful to have in your toolkit!

If you don't know anything about acrylic paint pens check out this page I wrote on what you can use them for!
The Arteza pads in particular though are of a keen interest when it comes to cost.
In fact, the Arteza Mixed Media Pads are probably THE MOST AFFORDABLE OPTION you can take a look at.
They offer a 3 pack of mixed media pads that are 5.5″ x 8.5″ where each pad has 60 sheets! For $21.99, Bringing your cost per page down to 11 CENTS!!! Check it out on Arteza here!
Grumbacher Acrylic Pads are available in 9″ x 12″ and 12″ x 18″s. They both have 15 sheets of paper. The 9″ x 12″ costs $9.40 bringing your cost per painting to 62 cents.
So still not a bad option to go with either.
As for the Bienfang Canvasette Paper Canvas product selection, like Canson, they have 4 sizes to choose from.
| | | | |
| --- | --- | --- | --- |
| Sizes | Color | Sheets | Price |
| 9″ x 12″ | White | 10 | $9.68 |
| 12″ x 16″ | White | 10 | $16.11 |
| 16″ x 20″ | White | 10 | $26.40 |
| 18″ x 24″ | White | 10 | $36.01 |
Bienfang Canvasette Paper Canvas Pricing Chart (182lbs)
As you can see the selection here is nearly identical to Canson offerings with the main difference being the weight in paper.
The Beinfang have a heavier weight and only cost slightly more.
All of the pads covered in this section are really great options to get for acrylic painting on paper.
Do You Need To Prime Paper for Acrylic Paint?
When it comes to paper for acrylic painting, there really isn't any priming necessary. It's not even really necessary when you use stretched canvas either.
As long as you buy some of the paper brands we have mentioned you won't need to worry about priming it as it is pre-primed when you buy it.
Whether or not you want to add some gesso for texture is a different story.
The paper may react differently depending on the weight of the paper. The more thickly you want to layer paint and gesso on your painting the thicker or heavier weighted paper you will want to go with.
I have never tested this out myself so I'm not sure where the limit lies on how much paint you can add before the paper starts to warp. Nor do I know how much gesso it can withstand before it warps either.
I'm sure there is a level of moisture or point of saturation that you will want to avoid to prevent the surface from becoming deformed.
Plus gesso can also help create a layer of protection to prevent the paper from absorbing the paint. Perhaps if you tape the paper flat and then do a light layer of gesso you can prevent the paper from warping while creating a bit of protection from the wetness of the paint.
It absolutely is not needed at all but might be an interesting experiment to try.
Can I Use Watercolor Paper for Acrylic Paint?
The answer to this question really depends on the weight of the paper. From looking around and comparing watercolor paper to acrylic painting paper the weights vary but are in a similar range.
Canson XL Watercolor pads as an example are weighted at 140lbs.
Some of the acrylic painting pads we covered above were weighted below this so this would work just find for acrylic painting as well.
You could also water down your acrylic paints a bit so they have an application consistency and fluidity to them similar to water paints.
The lower your weight of paper, the more like watercolor paints you will want to make your acrylic paint to get results that don't curl up when they dry.
It may take some trial and error to get the results you want but with a bit of experience, you can make it work for you. That said, you're probably better off just buying paper for acrylic painting.
If all you have is your watercolor paper though and you want to make it work you can also keep it taped down or weighted while it dries. This will help ensure it dries flat and is something you will be able to frame later.
It is said a light layer of gesso is another option as well to help keep less of the paint from absorbing.
Again, just like earlier this isn't something I have been able to test myself yet so it is possible the moisture from the gesso itself may cause some warping as the paper dries.
The point is, watercolor paper can indeed be used for acrylic painting. Sometimes you've just got to work with what you have.