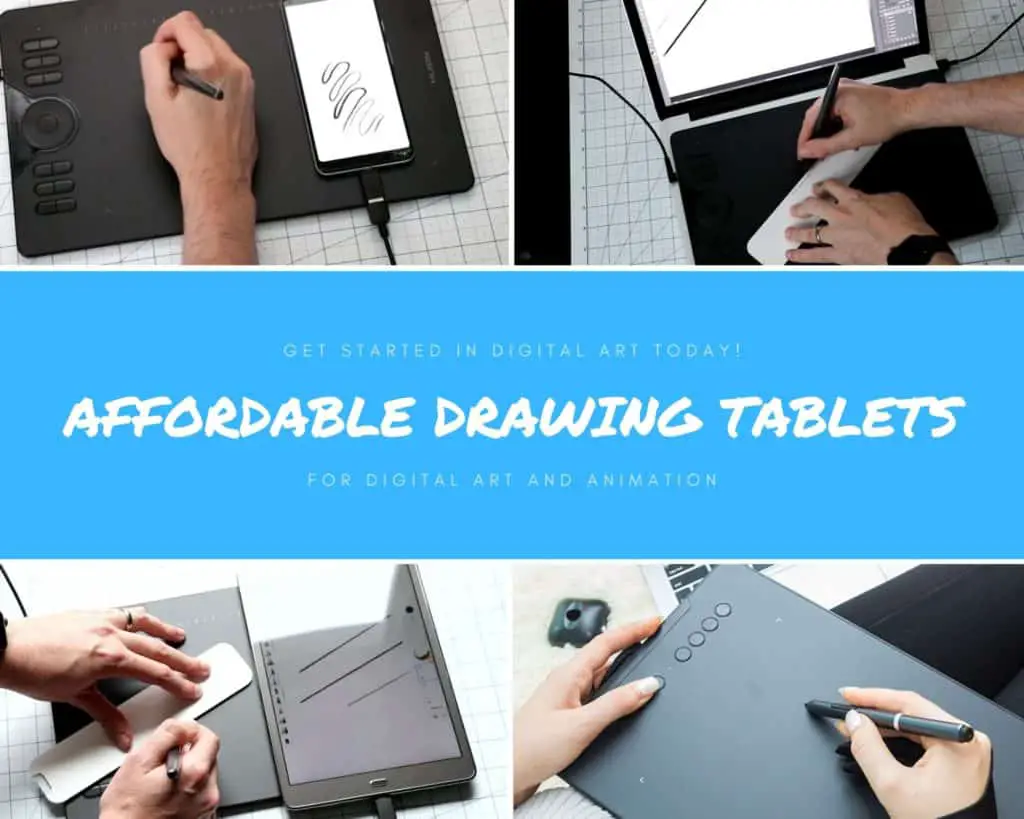 What are the most affordable drawing tablets you can get your hands on? I'm glad you asked! After a mind-bending amount of research, I was able to find a few great and affordable options we can try!
As long as you already have a decent computer these are all great starting points for any beginning artist looking to get into digital art and animation.
In the interest of full disclosure, I have not tried any of these devices yet. I simply have been researching what is currently available out there for you to try.
I will definitely get my hands on all of them and conduct a more hands-on analysis. I will certainly be getting a few soon myself.
As of right now, my analysis of these devices is based solely on the specs they have listed, the reviews I've read, the videos I've watched, the comments from other artists in those YouTube reviews, and finally the posts of others in the forums I could find.

There are some great YouTube videos you can find reviewing most of these products. I have collected the ones I used and either placed the video in the article or linked to it.

I will eventually make my own YouTube videos so that way I can get some hands-on experience with all of these affordable drawing tablets AND so we can see how good they are for beginning artists like us.
9 Affordable Drawing Tablets Under $100.00
Huion H420 USB Drawing – Price: $29.99
This is easily the most affordable option I have found so far. It is $30.00 U.S. It has 2048 levels of pen pressure and is compatible with many of the most popular illustration programs you might be using. For an extra $20.00 you can get a drawing glove and carrying case for it as well.
The drawing space on this tablet is one of the smallest around. It is about 4 inches wide and 2.2 inches deep. So roughly a bit larger than a credit card. If this is your first tablet it may not bother you that much.
One of the tips from Brad Colbow in the review video below is to do your work a bit zoomed in.
It is worth noting that he immediately breaks the first one by slamming it on the desk too hard. So it may perhaps be a bit fragile. So be careful about that.
He does easily prove that one can make great artwork even with a drawing tablet this cheap! So if you are on a really tight budget and are eager to get going digital this will be a great option for you!
Huion HS64 Android Drawing Tablet – Price 42.99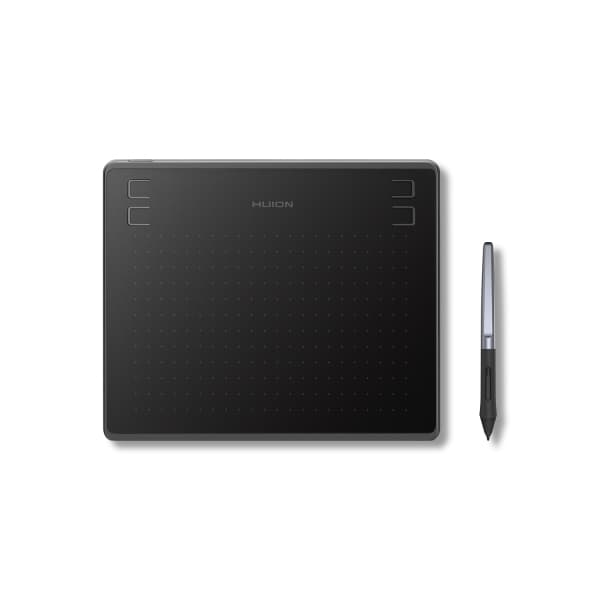 This particular drawing tablet is specifically designed for android devices only. As a result, this is a really great and affordable drawing tablet for anyone who only has an android smartphone or android tablet.

So if you don't have a computer and all you have access to are these sorts of devices, this is one very affordable product to get you working digitally as soon as possible!
It has a 6.4 by 4 in draw space which makes it easy to carry around with you.
It is compatible with Sketchbook and has pretty decent line quality.

So whether your only devices are android or if you're simply looking for a mobile option to do artwork on the go, this is a great and affordable drawing tablet for you!
Huion H610 Pro V2 Drawing Tablet – Price: 49.99
For just $20 more than the first option, you can get 4x the amount of pen pressure sensitivity. With 8192 points of pen pressure, it is sure to be loads better than the H420. This one supports brush tilt as well.
The drawing surface is 10″x 6.25″ which is just a bit smaller than a sheet of paper but easily 2x the drawing area of the first tablet in the list. They even go as far as giving the surface a good texture.

It does offer a pretty smooth line quality as well.
It comes equipped with 12 different customizable short cut buttons. Right in the middle of those buttons, you will find a zoom wheel that allows you to scroll in or resize your brushes.
Now, if all that doesn't sound good enough let's get to one of the major perks of this drawing tablet. This particular device is also compatible with Android 6.0 and up.

One thing to note is that when you are connected to an android smartphone or tablet the drawing space is reduced from its normal size down to 6.25″ x 3.9″.
That minor details aside, if you don't have a computer but you do have a badass android smartphone or even Samsung Galaxy this would definitely be a great option for you!
XP-Pen Deco 1 V2 Drawing Tablet – Price 49.99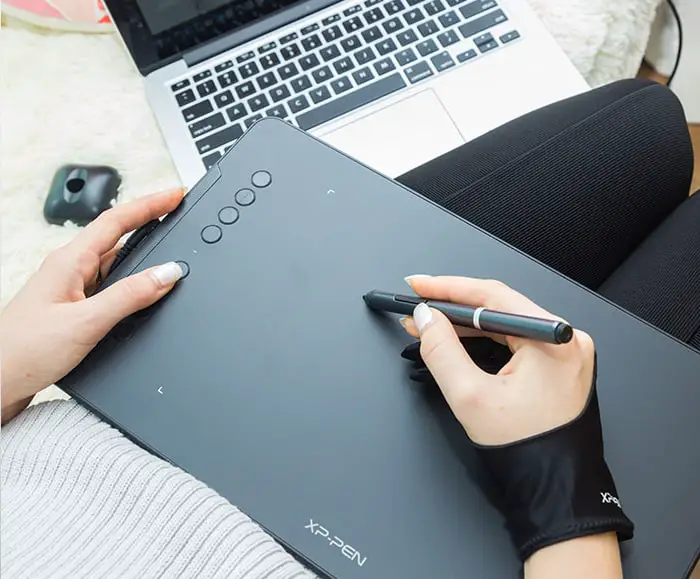 This drawing pad is almost identical to the H610 listed above. It too has the ability to connect to Windows, Mac, and Android devices. It has the same drawing space at 10″ x 6.25″ and is compatible with most of the popular art programs.
The stylus has 8192 levels of pressure sensitivity and 60 degrees of tilt as well. According to Boro Drawing, it has a high-quality feel in terms of how the pen feels on the surface of the tablet.

Boro also says the line quality and responsiveness are very nice too. It does look like it may require you to press harder than what other tablets might require in order to get a darker line.
One neat little feature that actually differentiates it from the Huion H610 is that it actually lights up at the ends of the drawing area.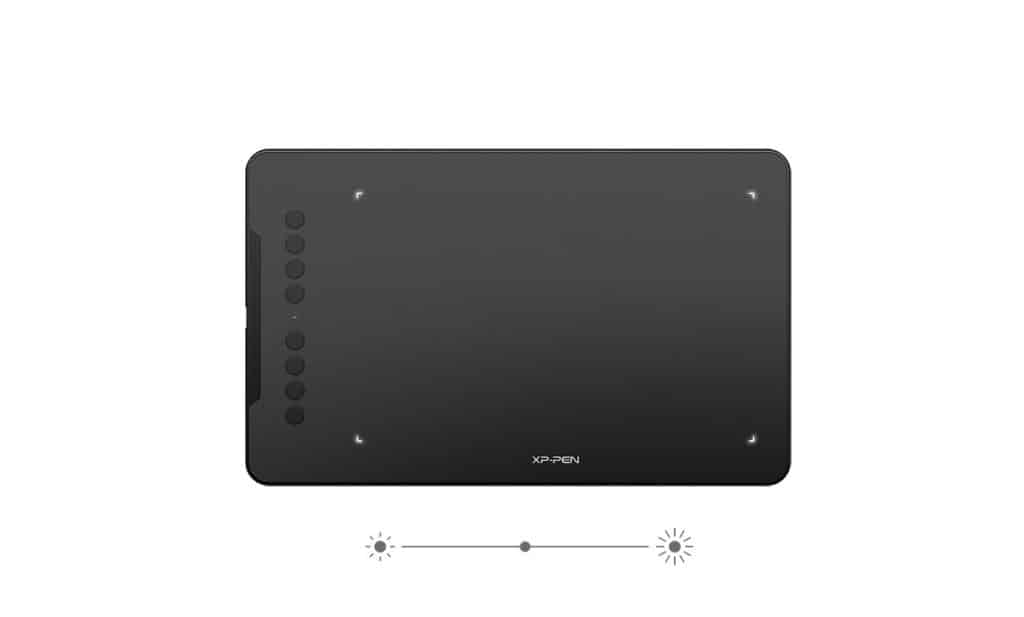 It has 8 customizable expressive or short cut keys. Each key has different bumps on them to distinguish them by feel.
One interesting thing this guy Boro mentions that I hadn't thought of or considered is how it is actually a bit more comfortable to use a screenless tablet on your neck. Basically, as you use your screenless tablet you will be looking straight ahead at your monitor rather than down at the tablet or at a piece of paper.

Since I never used a screenless tablet this it is not something I had ever thought about before. It is certainly something you should consider when weighing your options.

That kink in my neck is often the thing that causes me to have to stop for a bit and take a break.
Veikk A15 Drawing Tablet – Price: $55.99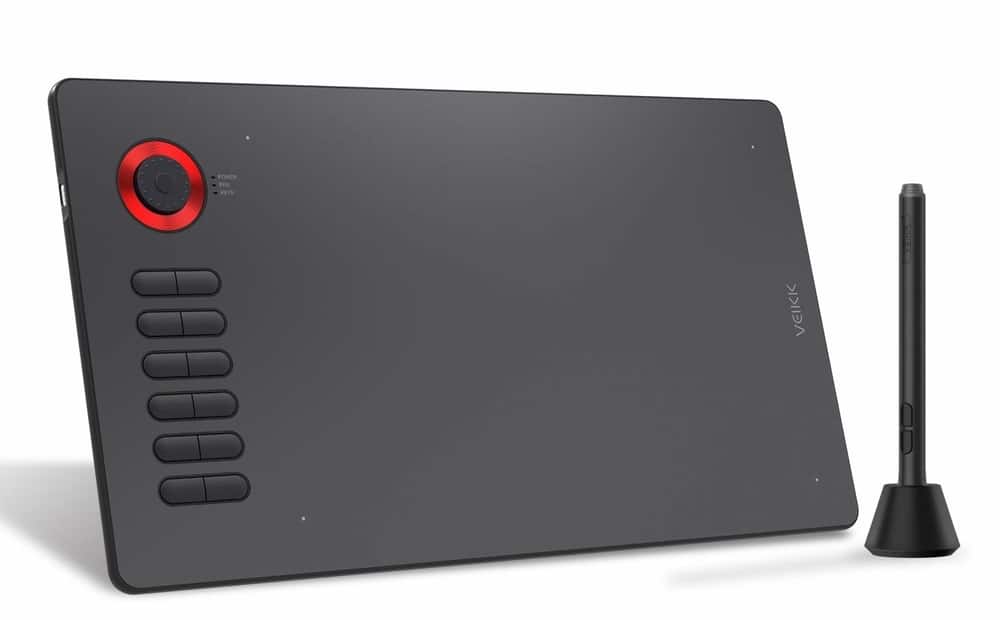 This is another affordable option one can go with. It is similar to the Huion H610 in that it too has 8192 points of pen pressure. The workspace measures a bit smaller at 10″ x 6″. While it is compatible with most major art programs unlike the Huion it doesn't have the ability to connect to android devices.
Like many drawing tablets it does come with a drawing glove which is always a welcome feature.
It has 12 programmable short cut buttons on the left side of the tablet.
The pen has a few buttons on it that can be programmed for shortcuts as well. It does not have tilt support so that it is a bit of a drawback to it.

The line quality can and does end up with jitters so it is not entirely perfect line quality. Even when smoothing is applied, while it helps with the jittery edges it makes the transitions between different pressures noticeable.

If you're a beginner though still trying to master line quality and just the basic fundamentals this tablet will get the job done!
One by Wacom Drawing Tablet for Beginners – Price:$59.95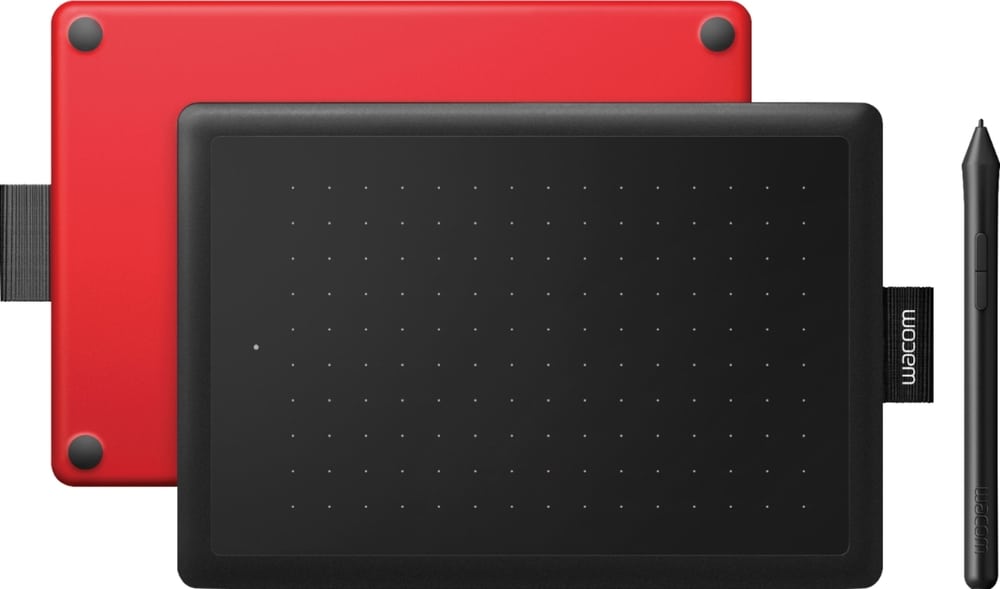 The One by Wacom, not to be confused with the Wacom One, is Wacom's most affordable drawing tablet in their line up.
An evolutionary byproduct of their Wacom Bamboo lineup, this is their most recent incarnation. From what I can tell of the history of releases they are probably gearing up to release the next version soon. Nearly all the reviews I found on this product were a couple of years old.

This tablet comes in small and medium sizes. The medium just breaks the $100 price point for this list.
The small version has a drawing area of 6.0 inches by 3.7 inches while the medium will give you 8.5 inches by 5.3 inches to work with.
This pen only has 2048 levels of pressure sensitivity. A bit low compared to the rest of the tablets on this list…
I'm hesitant to say what sort of line quality you can get with this as it was quite the challenge to find any good video reviews that were recent. The ones I could find didn't have good demonstrations of the potential line quality.

I can say that while I don't have any hands-on experience with Wacom's products they do seem to be highly regarded as a company that strives for the best.

That's about as far as I should go on this one right now until I can get my hands on one.
Wacom Intuos Small Drawing Tablet – Price: 69.95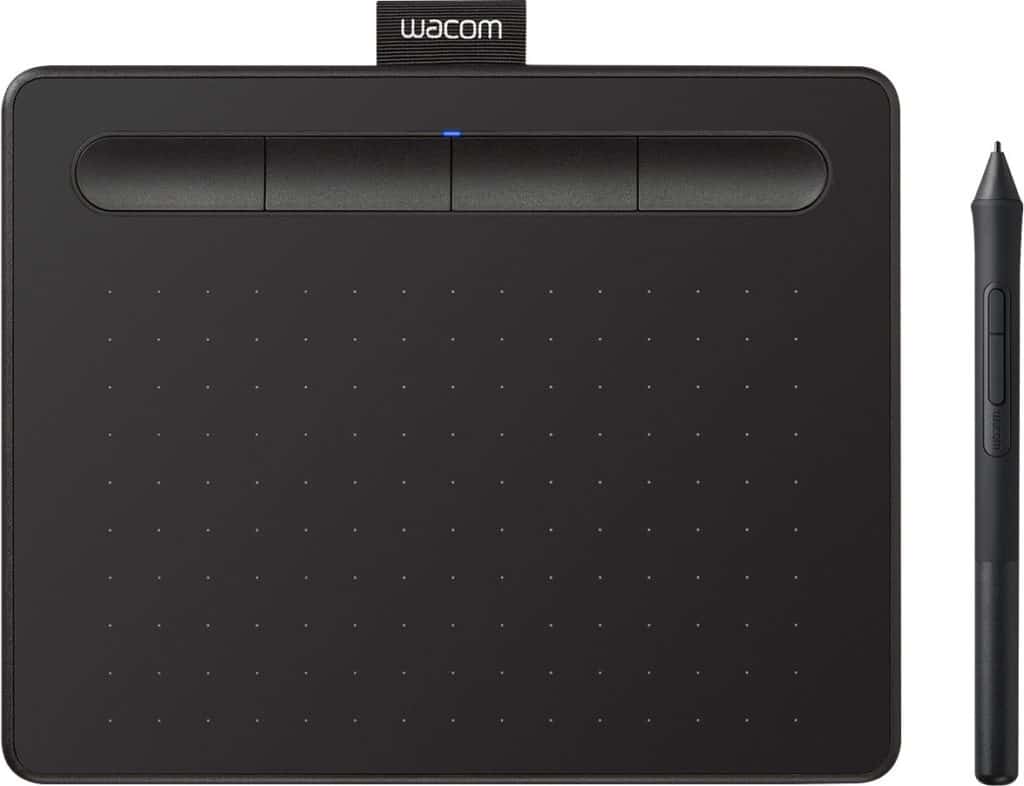 This is the first in a line up of 3 different versions of this particular tablet. Only 2 of the 3 make it in the affordable drawing tablets list.
This is the small version with no Bluetooth. It connects to your Mac or PC via USB cable.
It has a drawing area of 6.0″ x 3.7″. So a bit on the smaller side compared to some of the other options on the list.
The drawing surface has a pretty good feel to it. It definitely gets smooth line quality with little to no jitters.
The pen 4096 levels of pressure sensitivity allowing for responsive and dynamic lines.
Huion Inspiroy H950P Drawing Tablet – Price: $69.99
The Huion Inspiroy comes with a drawing area of 8.7 by 5.4 inches and 8 programmable keys for whatever short cuts you might want.
So far, the only difference I see on this tablet from the H610 is that it has a tilt response function to the pen.
This allows for different effects to be generated when using your pen at an angle. Other than that the pen for this also has 8192 points of pressure.
The setup is pretty straight forward and easy to do. The line quality looks great and the surface is comfortable to draw on.
Just like the H610 it is compatible with Android operating systems! Which is a pretty nice perk for our android users out there.
Wacom Intuos Small Drawing Tablet BT – Price: $99.99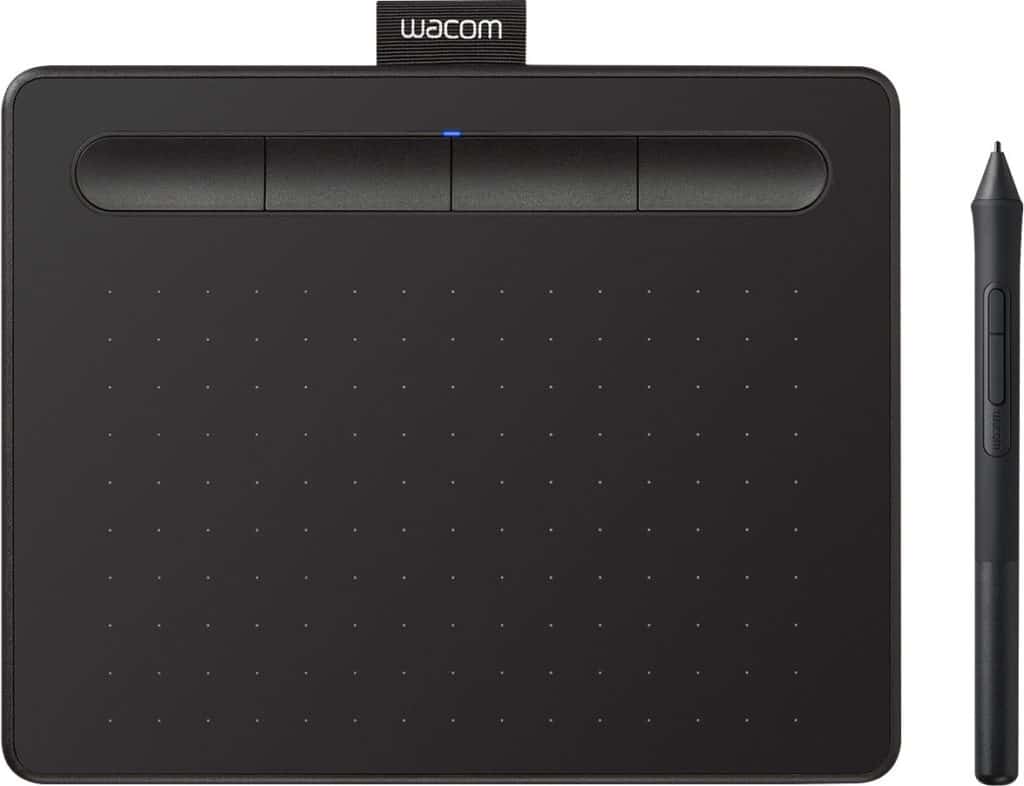 This tablet is the Bluetooth version of the previous Wacom Intuos drawing tablet on the list.
Everything is exactly the same as the stats listed above on the previous one.

It is worth noting that when all of these tablets first came out it used to be that the small with no Bluetooth only came with one of the 3 creator programs.

Now all Intuos drawing tablets come with all three programs upon registration of the device. So no matter which one you go with you will also get a graphics drawing program called Corel Painter Essentials 6, a photo editing program called Corel Aftershot 3, and a comic manga program called Clip Studio Paint Pro 2 year license.
So while there are some cheaper options on the list it may be worth getting for those programs depending on what sort of art you want to create.