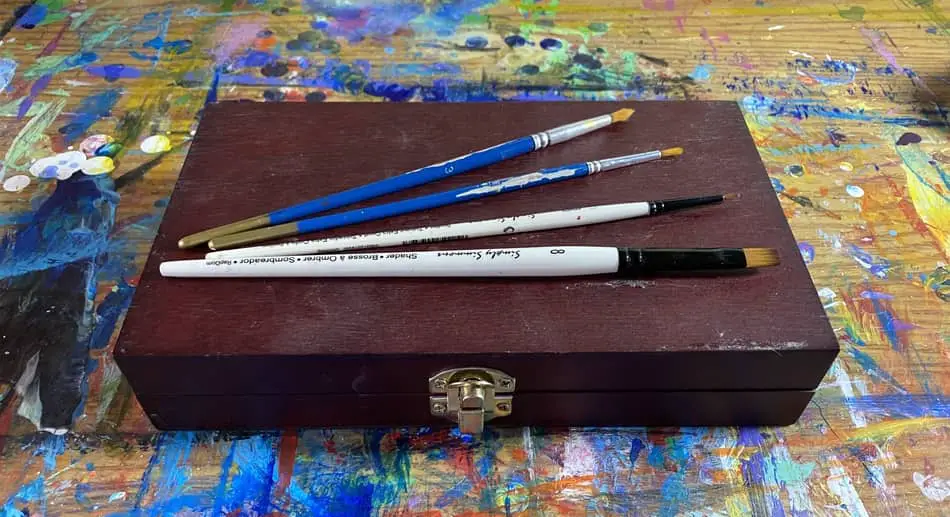 When you're first getting started painting it is best to start with a simple paint kit. Acrylic paint sets with brushes are available for purchase and some even come with canvas too!
Acrylic paint sets with brushes that you can buy include:
Royal Brush Beginners Art Set Acrylic Painting
Royal and Langnickel Zen Acrylic Paint Set
Royal and Langnikel Essentials Acrylic Art Set
101 Piece Delux Easel Art Set by Artist's Loft
Utrecht Acrylic Sets Wood Box Kit
These paint sets vary in what they come with. Most of them are just paints, pencils, and paintbrushes but some of them include some extras.
You can get a paint set as low as $15 or spend as much as $235! Before you decide though we should take a look at each of these options and see what they come with.
Royal Brush Beginners Art Set for Acrylic Painting
As acrylic paint sets for beginners go this is a pretty good place to start. The Royal Brush Beginners Art Set for Acrylic Painting is an affordable option at $24.99.
It comes with 10 colors and 6 brushes to get started with. You will need to spend a bit extra for canvases or a pad of canvas paper but once you have that you'll be ready to go!
I always advise canvas so it's easy to hang and you can get that dopamine release every time you see it on your wall! A two pack of 6″ x 6″Blick Academic Canvas costs $6.43 so for just under $35 bucks you'll be off and running.
It supposedly comes with a helpful "how to" guide but I'm skeptical on what that might contain. If there isn't a step by step section available on this site by the time you're reading this there will be soon.
I currently have some available in my painting projects section but I plan to revamp everything in the weeks to come. You can check out the painting projects I currently have here!
The Royal Brush Beginner's Art Set also comes with one of those mini egg shaped palettes for putting paint on as well as a palette knife.

The type of flat palette knife it comes with is more like a butter knife though. The only time I really use this type of knife is very much similar to a butter knife as I have a big bottle of yellow paint where the paint had never been able to squeeze out of it.
So the only time I use it is to get paint out of that. I'm not sure what else it can be used for but that doesn't mean they don't exist!
Finally, it also comes with a standard pencil, eraser and sharpener. I'd say this is pretty good for the price.
Related Articles:
Royal and Langnickel Zen Acrylic Paint Set
This particular acrylic paint set is all about the paint brushes. The Zen paint brushes!
I actually didn't even realize until right this moment as I was writing this that my favorite paint brushes in my collection are all Royal and Langnickel Zen Paintbrushes.
Their distinctive silver handles make them stand out and their synthetic bristles are among the smoothest in my collection.
The Zen Acrylic Paint Set comes with 6 Zen Brushes to get you going. A filbert, flat, angular , bright, round and fan brush!
Be sure to check out my post on how to clean acrylic paint brushes before you ruin this great starter set of brushes! If you're just getting started this is really good to know. I ruined too many brushes when I first started…
This particular set costs $39.99 and comes with a set of 12 acrylic paint colors to get you started.
It does also come with a palette knife too. This is the good kind of palette knife that has the knife part extended out from the handle at a 45 degree angle.
You'll again want to purchase some acrylic painting paper or canvas to go with this kit. Once you do you will have everything you need to test your hand at painting.
Royal and Langnikel Essentials Acrylic Art Set
This particular paint set is special in that it literally comes with everything you need at a ridiculously low price.
I imagine the quality of the paint probably isn't great for the price point but it's plenty for someone to try acrylic painting and see if it's something they will want to invest more money into.
The Royal and Langnickel Essentials Acrylic Paint Set comes with three paint brushes, twelve colors, a palette knife, a 6 well palette (the half doze egg carton kind) AND and ACRYLIC ARTIST PAD!
Can you guess how much it will cost? You can get all of that for only $15.99!
I think that is an excellent deal for those who just want to dip their toe in the paint and see if the like how it feels.
101 Piece Delux Easel Art Set by Artist's Loft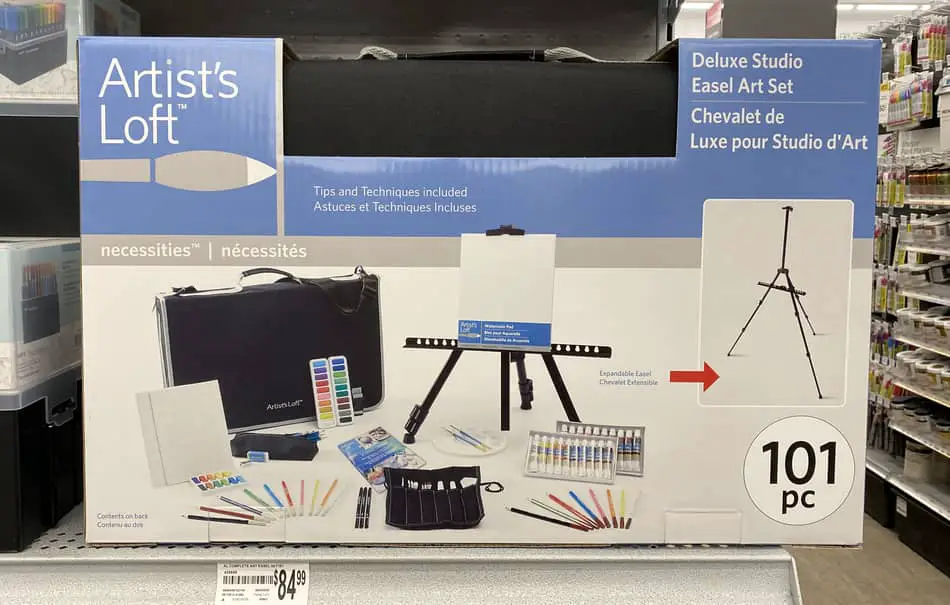 Now if you already know you are serious about your pursuit of learning to paint you could go with something like the 101 Piece Delux Easel Art Set by Artist's Loft.
When it comes to acrylic the quality acrylic paints that most beginners use there are two main popular brands. Liqutex Basics and Artist's Loft. Both of these brands are very popular for beginners and professionals alike.
So you already know that the paints in this kit will give you excellent quality results.
It doesn't just come with acrylic paints though. It also has a set of water colors, oil pastels, and even soft pastels!
101 pieces is indeed a lot because it doesn't stop there. It literally has everything you could possibly want or need as a beginning artist or even a more advanced artist.
It has so many mediums to choose from I worry a beginner may feel a bit overwhelmed. Having so many choices isn't always a good thing.
The good news is that it comes with a workbook of exercises one can follow. Not just that there is a web page or YouTube video for anything these days.
This kit also comes with 3 palette knives which are an essential tool for the aspiring abstract artist out there!
A set of sketching pencils to help refine your drafting skills. Every artist worth their salt must learn to draw! Don't slack on it.
Then there is the set of colored pencils. Just like every other medium on this list these deserve study on their own as the blending techniques differ from your regular sketching pencils.

It also comes with water color cakes can , 9 brushes, a mixed media pad, and 2 canvas boards!
This thing is loaded with so much it would take months to go through it all!
It is a bit more expensive than some of the other products on this list at $84.99 but this seems like a reasonable price for all that you get with it. Did I mention the folding metal easel and it's carrying case?
Oh ya, there's that too!
Have I gushed enough yet about this kit?
Utrecht Acrylic Sets Delux Set
What to say about this option. There is some interesting and confusing things going on with the Utrecht Acrylic Sets Wood Box Kit.
After going over all the previous really great options this one immediately doesn't look so great for a variety of reasons.
First off is the price. It costs 177.25. For what exactly?
I've been doing a lot of exploring of the Blick website lately as they have a really great product selection but now I'm wondering what exactly is going on with this product. This one is questionable for a number of reasons.
Other than the exorbitant price, which I can't figure out why it's so high to begin with, there is an interesting little caution label on all sites that sell this product.
A warning label is displayed required by the state of California. Apparently these paints contain actual cadmium.
Cadmium is toxic and can cause cancer. Among other things. This is a whole different topic to dig into when it comes to cadmium in paints that I knew nothing about until right now.
A brief search shows that's a whole can of worms I can't open up right this second. Perhaps this is why the cost is greater. Maybe it has something to do with this.
I can't figure it out.
Besides potential health issues, what else are you getting for your money?
Well I'm glad you asked. You'll get 12 colors of paint, it comes with a 5 oz gloss medium, a 2 oz gel medium, 4 paint brushes, a single palette knife, and an 8″ x 10″ canvas.
Come on now, this just can't be worth it at all. I don't know about you but no thank you.
Plus with the toxicity level imagine what might happen if you have a pet that gets into it. No wait…don't do that. That's depressing.
Let's just hit this one with a hard pass. The good thing is now we know to be aware of cadmium rich paint and it's potential toxicity. Especially when it pertains to Utrecht products.