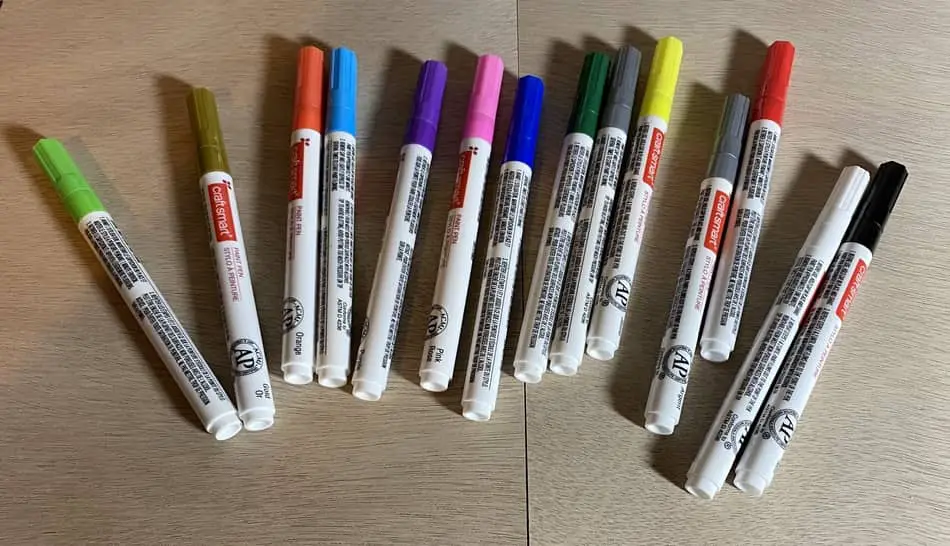 There are lots of neat tools to add to your acrylic painting supplies list but one I have been wanting to get for some time now are acrylic paint pens.
The artist John Beckly on YouTube uses them a lot in his abstract paintings which is just one of many things I would like to try with them myself. There are a whole lot of cool ways to use acrylic paint pens.
When used for acrylic painting, acrylic paint pens can help with adding highlights, lines, fine details, and text to paintings. They are great for use in abstract art, pop art, and graphic design art projects too! They can be used not only on canvas but also on wood, glass, ceramics, furniture, metal, paper, foam board, rocks, and even vinyl too!
I had no idea what a great tool I was missing in my collection of art supplies! They even have qualities that withstand the weather and exposure to the sun!
With so many ways to use them and so many options to choose from it can be tough to know where to start.
Before we do a deeper dive into all of the available paint markers out there let's have a detailed discussion on the many surfaces you can use them on and what all we can use them for!
I have a feeling by the time I'm done writing this page I will be ready to load up on a bunch of these paint pens myself!
Paint Marker Techniques for Canvas Painting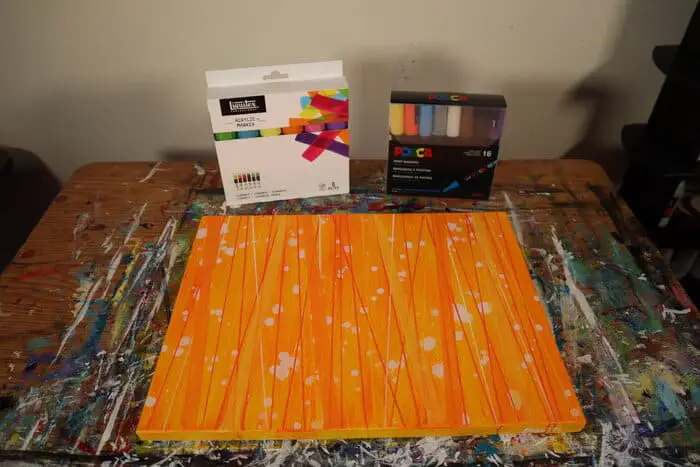 There are plenty of great ways to use acrylic paint pens in your canvas works. Used by painters of all kinds, the variety of tip sizes and shapes of those tips gives one a multitude of ways to add awesome details to their paintings.
Details that you can't really get with a traditional brush.
You can use them to add abstract details to your paintings like many abstract artists on YouTube like John Beckly, Ray Grimes, and Oliver Maass.
In making the painting above I used them to create a variety of straight lines with a ruler.
All of these artists you can see using paint markers on occasion to add abstract details to their works. They mostly use them in the final stages of their work.
Other artists will create the entire canvas painting using only their paint pens.
Creating these eye popping illustrations and pop art style type of paintings becomes a breeze with tools like these!
If you want to see how I used them to make the painting featured above check out the video below and then go subscribe to my YouTube channel here to stay up to date with all my new videos!


The goal of that painting project was to make an abstract painting using lines. In this painting, I demonstrate the use of Liquitex Professional Paint Markers and Posca Pens.
Posca Paint Pens are actually very popular for some reason. I haven't quite figured out why just yet but a lot of artists online say they are the best type of paint pens you can get.
Between those two sets and the Craft Smart Set that I cover in the next section so far those are the only paint pens I have tried. So when it comes to the best set you can get I would have to defer to my fellow internet artists.
Since I have a lot of Liquitex paints I decided to also pick up a set of Liquitex Acrylic Paint Markers too.
If you too also have a lot of Liquitex paints then this may be a good option for you as well. That's if you plan to combine it with your paint you're already using.
I honestly don't think combining different brands would really make much of a difference though. Sometimes finding the right tools for you is just about trial and error.
For those who have other acrylic paint products on hand be sure to read the descriptions of the paint marker you're looking at.

Some of them specify that even though it says it is an acrylic paint marker it still shouldn't be combined with acrylic paint. Others may be ok for it but might combine with your brand of paints in unexpected ways.

Which is actually difficult to predict or discern simply by reading the package.
Using Acrylic Paint Pens On Wood
Acrylic paint pens CAN also be used on wood. Some of them are even great for wood that will be outdoors or that already has paint on it!
Now how each brand performs on wood is up for debate. Most artists that I've seen using them on wood don't seem to prep the wood in any way that I have been able to discern.
Whether you may want to prep it or not will depend on what kind of wood you're using, what kind of paint pens you're using, as well as how you want your finish to look.
The picture below shows an experiment I did where I prepped these wooden cubes in different ways and then used a Craft Smart Paint Pen on each.
I picked up that Craft Smart Paint Pens at my local Michael's store. Once I get my affiliate partnership with them set up if you'd like to order them online and help me grow that Art With Marc brand at the same time I'll come back and put a link right here for you to make your purchase!
For more information on "How To Use Acrylic Paint On Wood", check out this page I wrote featuring more details on this experiment!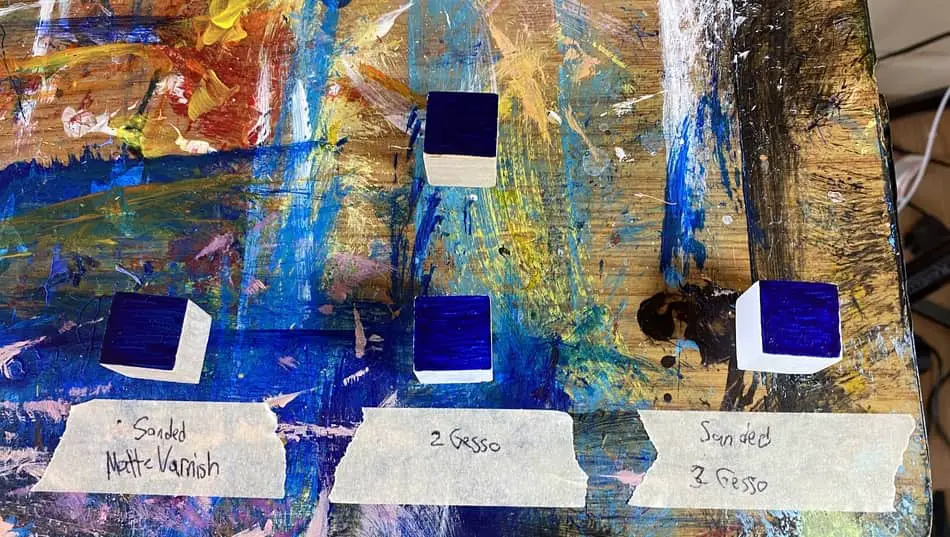 Some wood products you may want to work on will come pre-primed and ready to go.
Others may not require primer at all because the marker is designed for use on a variety of surfaces.
In fact, many paint pens are designed with this use in mind. A product like Chroma Mural Paint Markers is designed for indoor/outdoor use. This particular brand has a huge tip and is clearly meant more for mural makers and painting on walls.
Most of these brands actually offer a variety of tip sizes too. So if you need markers with a large fat tip or a more fine pointed tip you will be able to find something to suit your needs.
Another brand you may be interested in trying for painting on wood is Elmer's Painters Paint Markers. When it lists out wood as one of the things it can be used on I would think that means it's ready to go without the need to prime the wood.
I'm sure if you wanted to prep and prime your wood panels or other wood surfaces you may want to paint on then it would improve the quality of the results you get.
Especially if you're ultimate goal is to sell your finished work you may want to take the extra steps to ensure higher results.
That said, sometimes you just want to doodle or make something. I also am quite skeptical on the quality of the Elmer's brand. Perhaps that is my own personal biases coming into play though as when I think of Elmer's products they don't strike me as products made for professionals seeking to sell their finished results.

I of course could be wrong about this perspective.
Rock Painting With Acrylic Paint Pens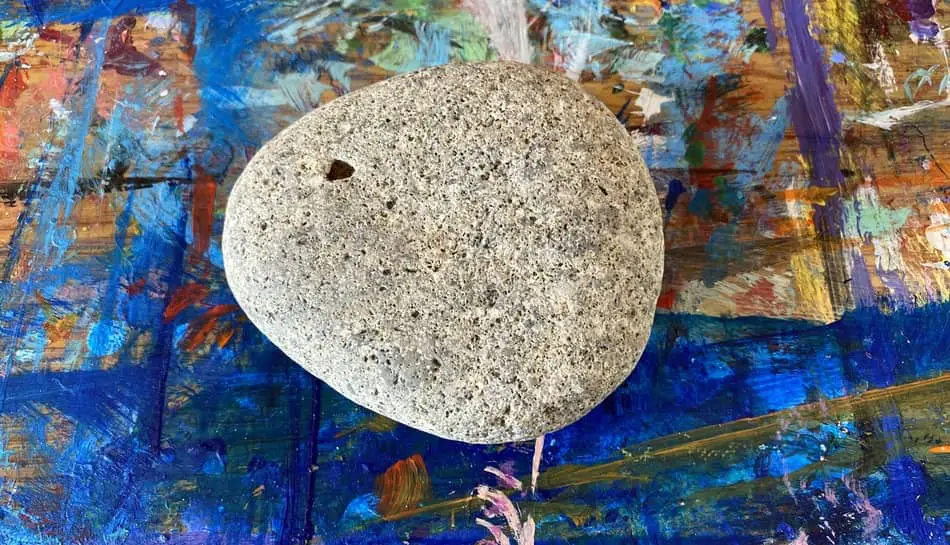 Getting into rock painting is super easy once you have a bunch of acrylic paint pens on hand.
It seems like a fun idea to me to just carry paint pens with you everywhere and leave neat little artworks on rocks for people to find.
If this excites you too then you would be interested in something like the Ironlak Pump Action Paint Markers. They pretty much boast to be usable on everything!
When looking for acrylic paint pens for rock painting there are a few key things in the description of the product you want to look for.
You want the product to say it's opaque, permanent, and lightfast. Semi-opaque pens will require multiple layers and when the pen has lightfast qualities that means that the paint is not prone to discolor when exposed to light.
The Ironlak Paint Marker has all of those qualities plus an additional resin creates a film to protect your work from the elements.
Sounds pretty great for rock painting to me!
I will need to grab a set of these markers to try them out and see if we can make a good rock painting without prepping the surface of the rock with gesso.

Some rocks are quite porous and most of them really need to be sealed before we start putting artwork on them. So to be able to create a decent picture with just paint markers and no gesso will definitely take a set of paint pens that has qualities like those listed in the Ironlak Paint Markers.
Related Articles:
Using Acrylic Paint Pens On Glass
Are you excited to have acrylic paint pens in your collection yet? If you don't want to paint on wood, or canvas, or even rocks, perhaps you might be interested in painting on glass?
We can even use our new tools on glass and ceramics! This would be great for those who want to make unique products to sell on Etsy!
Do you want to create your own hand-painted custom mugs to sell? There's a paint pen for that!
Perhaps you own a storefront and want to paint something in the window to tell people walking by what today's special is. There's a paint pen for that!
The Krink K-11 Acrylic Paint Markers are a great option for getting started painting on glass.
I will need to get a glass pane to test out the sets of markers I currently have to see if one can use them on glass and then scrape the paint off later. This way if you do plan to use them on a storefront window I can provide you with a good idea of what markers will be good for that use.
Some of the paint pens and paint markers listed here over on the DickBlick site specifically say they are great for use on glass so perhaps it might be best to start with one of those brands like the Krink set listed above.
Make Art on Leather or Fabric With Paint Markers
So now we get to the paint markers that are a bit more specified. These technically aren't acrylic paint pens in the way the rest of the paint pens in this article are.
If you're interested in painting on something like leather or shoes you're going to want to use something like the Angelus Paint Marker.
Angelus is a brand of paints specifically geared towards painting on things like leather and shoes.
These particular pens require a bit more setup and work to get going. That's just the pens too.
There is a process for preparing leather before you start painting on it that you will need to know about. That's something we will cover in more depth on another page later when it comes time for me to try a project like this.

In the meantime, the video featured at the top of this section will show you a basic run down on how to do it using the Angelus Markers.
So far Angelus is the only brand I have found being used for leather and most people are customizing shoes with this specific tool. You can also just use their brand of paint and a paintbrush as well.
As for fabric markers, there are plenty of these to choose from to get you going.
There are the Crayola Fabric Markers that are great for kids! These would make for an awesome afternoon project making homemade t-shirts.
Once the artwork is completed you toss it into the dryer so the heat will set the ink and boom! You have a fun custom made t-shirt!
For something like jeans, you may want to go with Jacquard Tee Juice Fabric Markers. It's designed to last and stay strong over tons of washings.
They're simple to use too but instead of heating the finished artwork in your dryer, you will want to use an iron instead.
There are a whole bunch of other types of fabric markers you can check out here over at DickBlick!
Well, I don't know about you but I'm totally stoked about getting a variety of acrylic paint pens and markers to add to my collection as soon as possible.
Besides the specific ones needed for leather and fabric, most other pens will open up a ton of potential art options once you have them on hand!
With so many potential surfaces to paint on it can be tough to know what you can and can't paint on.
Check out this article on 13 surfaces you can paint on next!