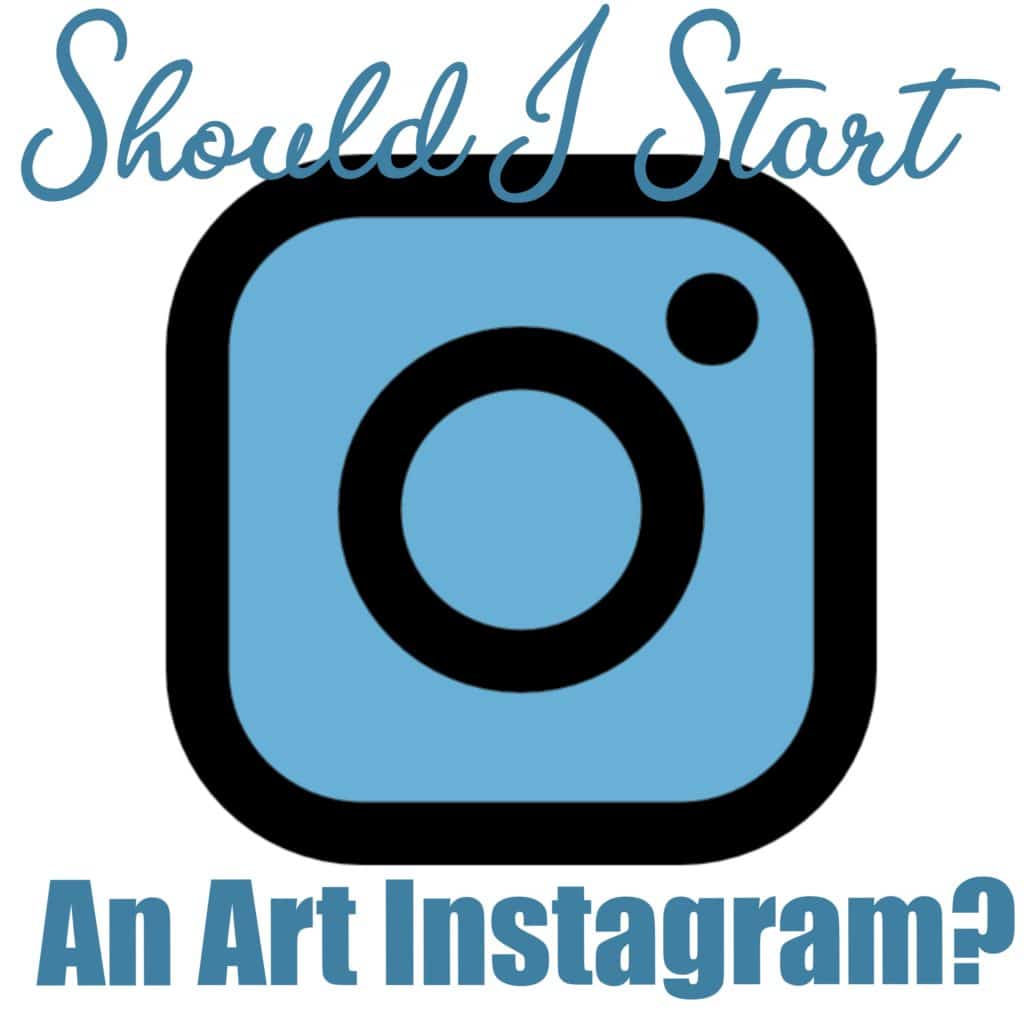 As a beginner artist, you may be wondering "Should I start an art Instagram? Is it worth the effort? What can be gained by doing it? Is Instagram good for artists?"
Understanding what can be gained and going into it with a goal in mind will help propel you to success on Instagram. Knowing your purpose for using it will also help to ensure you are getting the most out of it and not just wasting your time.
It will also prevent you from falling into some of the traps or negative side effects of using it too much.
I personally think you definitely should have an art Instagram! At the very minimum you should for the inspiration you can get from it. More than that though it is still a great tool that can be used to network with other artists, learn from other artists, track your growth, market your work, and when done right make sales!
It's just one of many platforms you should be taking advantage of if you want to make money online as an artist!
I only recently started my Instagram account and before I did I, of course, was asking myself these very questions. Should I start an art Instagram?
Even though I'm a millennial, up until about 4 days ago I had never really had any reason to use Instagram. Now with building this website and building up my reputation as a growing artist, I thought it was a good time to give it a try.

Naturally, I searched this very question with little to no results specifically directed at us aspiring artists out there. After only a few days of using it, I can certainly see a lot of value to be gained from it.

I still have more work to do before I can write any content on how to grow an art Instagram account but that is coming soon! I'm definitely getting results already and that was before I added any links from this site to my page. So I know at least these first techniques are working!

As you can see from the screenshot of my account I don't have too many followers yet. What I do have is not too shabby for a few days.

Just as I was about to wrap up my own thoughts on why I think you should start an art Instagram I decided to ask my meager following for some of the reasons they thought artists should have one. I got a ton of great responses!
Related Articles:
Using Instagram for Inspiration
One of the key things you should be using your art Instagram account for is to find great artists to connect with whose work inspires you to act! That last part is the important part here.

Be careful not to allow it to consume too much of your time and be sure that you are using it as a tool. Don't fall into the trap of pursuing the metrics for the sake of the metrics.

While likes are great an all I only use them as an indication of engagement. Comments are better and you should be responding to every single comment you get.
If your intent is to use Instagram to inspire you then you better make sure you are funneling that inspiration into action!
That said, there is a ton of inspiration to be found on Instagram!
When I say follow great artists, I mean artists who you feel are your peers. Not necessarily the big and popular accounts. I mean the smaller ones. The ones who will respond to you if you comment on their picture.

More specifically the ones who inspire you to achieve!

That's not to say that you can't reach bigger accounts or be inspired by them. Following artists you know of and admire will defintiely fuel your ambitions as well.
This
There is something a bit more motivating and special by following other artists closer to your level. The ones who, just like you, are trying to find their place in the art world.

The ones who are posting something cool every day. The ones who you want to cheer on and who will cheer you on right back! These pictures you see laced throughout this section are a perfect example of this!
I found this artist the other day who is doing the #365daychallenge in digital art. This, of course, is exactly what it sounds like.

When I found her she was on day 24/365.
I knew right then if she has already made it this far she will likely go all the way. My response was an instant follow! Now that's something I can root for! That's something that will motivate me to act!
I consider her my peer in way of her being someone who is reachable. Not so much in skillset as she clearly is leagues beyond me at this point! She is someone who is clearly pushing to improve herself as an artist and that is something we are both striving for.
Check out days 24, 25, and 26! Such magnificence! If you have already created an Instagram profile you should click over to dariatroi_art and follow her! She certainly deserves more followers!
It's hard to describe how inspiring this is to see! She has made a commitment to do it and is meeting that commitment every day!

This fills me with such a fire that I'm able to light up this screen with words quickly and then push that fire over to my artwork as well!
I'm sure as an artist there have been times where you are beating yourself up for not doing more artwork. We know we should be doing it every day if we truly want to be great at our craft.

I know I certainly do. That is one reason I find someone who is taking on the #365day challenge and actually doing it so motivational to see!

This is just the tip of the iceberg.
Making that personal connection with other artists through comments and direct messages is another way to gather up inspiration too!

In this way, you get double the inspiration! Not only by their artwork but by the person themselves.

Most of my new friends on Instagram are in other countries. It is great to get different perspectives on art and the world at large!
Watching someone push themselves to grow will inspire you to do the same. Whether they are down the road or on the other side of the world!

The person I quoted above, Smita_Srivastav, is in Haryana Gurgoan India! How amazing is that?

If you take it a step further and engage them, there's no telling the gems you might find. Speaking to them about what materials they used, what techniques they are applying, and the challenges they overcame in their work will arm you with knowledge!

It is a digital way of surrounding yourself with like-minded people. Which is always worth the effort to do!
The Value of Networking with Artists
Don't underestimate the value of connecting with other artists. You may find this helps you improve more than anything.

With digital access to people all over the world, you can surround yourself with artists who are at that level of skill just above you. Allowing you to create an equilibrium you will then be driven to reach yourself!
By building an Instagram following you are creating a network of support to lift you up when you are feeling down or unmotivated. A network of skilled artists who can give you genuine feedback and help you improve.

If you are doing something like the #365daychallenge you may even start to feel a sense of responsibility not to disappoint your followers.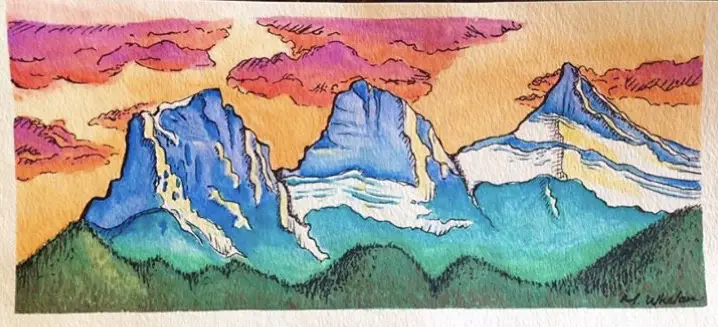 One artist that I was able to connect with while pondering the question of "why you should start an art Instagram" pointed out the sense of accountability she feels by having followers. How that helps to motivate her to consistently sit down and keep up with her artwork.

Now that Mairead over at mwhelan.art brought that to my attention I absolutely have already been feeling this effect in just the few short days that I have been on it.

For me, this sense of responsibility to keep up with my creations is coming more out of a desire to keep up with multiple postings a day to build my following up. I'm sure in time as my followers grow so will this sense of accountability to them. Especially as we get to know each other on more personal levels.

Another Instagram artist I have recently connected with, NayPaints, specifically set up an art Instagram to share her work and connect with other beginner artists.
Plus you never know when you make a connection to someone what might come out of it. As they say, it's not what you know but who you know!

So when you start your Instagram account go at it with the right mindset. It's not just about you and getting your work out there. It's about those you meet along the way as well!

It is about how you can utilize the platform to grow yourself as an artist and an art professional.

If you seek to provide value to those you meet on the platform, I promise you, there is a mountain of wealth to be mined this way.
Your Own Personal Gallery
When reaching out to my fellow Instagram artists to see what other reasons they felt you should have an art Instagram there were several who responded simply to use it as a way to share and track your work.

Grayovercast says "It's a great way to showcase your work. It's your own personal gallery. You can show as little or as much as you want. It's also a great way to get exposure and find those that love what you do. Finally, it's an easy way to see how far you've come as an artist."
Just to stress this point a bit here is some of Grayovercast's awesome work!
This is a very good point! It can be intimidating for some to share their work with others. Instagram can remove some of that self-consciousness if you create your profile with some measures of anonymity.

Plus, if you're not comfortable showing it then you simply don't post it.

Then add to that the potential archival benefits if you post your work regularly. It can serve as a way to observe your own growth. A way to track your progress and to ensure that you are indeed growing as an artist.

Then there is the added benefit of potentially getting discovered by someone who values your style of art. You never know when someone like me is going to come along and feature your work in an article like this!!!
Marketing Your Artwork and Getting Sales
This last point is the hardest one of the three to get to. Networking with other artists and gathering inspiration to act are the low hanging fruit that you can start collecting on day one.
Getting to a level where you can use your Instagram account to market your work and generate sales is a lot harder to do.

This is a use that takes long term dedication and consistency. While I have not done this just yet with my meager 20 followers, I know there is certainly potential to make this happen later on if I build my following correctly.

I can tell you with certainty that it is definitely possible to generate sales of your artwork this way. There are a bunch of things you will want to do in order to achieve this.
One good thing to do is to be experimental with your posts. Try new things. Use captions in your posts that encourage engagement.

Ask questions in your post to get people to comment. When people do comment make sure you engage with them. Do more than just like their comment. Reply back with something meaningful.

While this will grow your followers it is more important to grow your engaged followers to get to a point where you can make some sales.

Try doing different types of promotions. A good example of this is my new friend over at Studio_Shultz's current giveaway promotion she is running in partnership with a couple of other Instagrammers.
As you can see from this example, a good promotion will get people engaged and commenting. This will ensure that you are growing your profile with active and interested followers.

If a person likes your work enough to participate and try to win it then they will be more likely to potentially buy later on!

Often times when you do stuff like this you will find it is an experimental process to find something that is effective. So be sure to try different things and always be on the lookout for posts that are having an effective reach.

The key takeaway here is to constantly be building engagement and not just followers.
When I asked mwhelan.art if she thought there was a specific threshold of followers she thought one needed to achieve to start generating sales and she responded stating it is more about engagement than followers.
She sells cool products like this awesome Jean Jacket over in her Etsy Store!
So when building your following you should be constantly thinking about what you can do to engage your audience.
Another important thing to consider is having an Instagram account specifically dedicated to art.
If it is among your goals to get to where you can generate sales on Instagram, I certainly would recommend having an Instagram dedicated to your artwork that is separate from your personal Instagram.

There are multiple reasons for this that I didn't think of until NayPaints brought up the fact that she didn't want to spam her followers on her personal account with art posts they may not want to see. This is a very good reason to have a dedicated art Instagram.

The other major benefit is by doing this you are specifying a niche market you're pursuing.

This helps pull in new followers by telling Instagram this page is all about art.
So when it comes to the question "Is Instagram good for artists?" Only when used with intent and purpose. If you have been considering starting an art Instagram there is no better time than now.

With the algorithms constantly changing, new features popping up to use, and the massive amount of competition out there, learning how to attract and cater to a targeted audience is apart of the game now.

Fear not! I am on the case! While these are just my initial thoughts on why I think you SHOULD start an art Instagram be sure to bookmark this site or my blog page to see the post I make later on how to grow an art Instagram!
I promise to deliver some clear cut actions you can take to grow an engaged following!