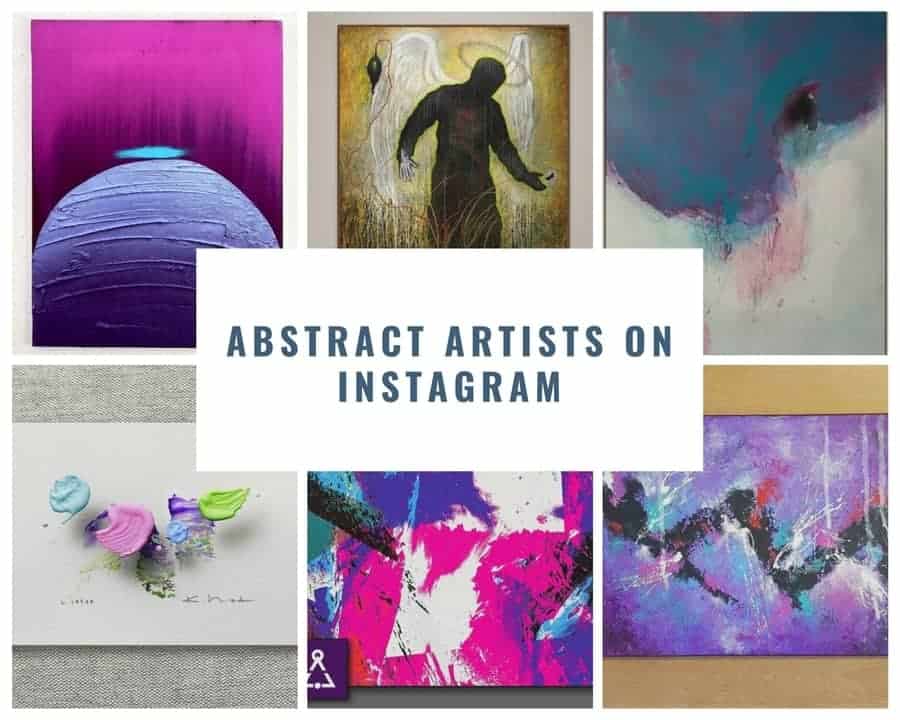 As an abstract painter, I'm always looking for amazing artists to learn from and be inspired by.
In today's world, there are so many incredible artists out there to discover and learn from it was very hard for me to narrow it down and decide who would make it on this list.
These artists are honestly chosen a bit randomly and very biased in the sense that these are the artists that appealed to ME. They are artists that inspire me in one way or another.
None of these artists paid me or asked me to do this. I do not have partnerships with any of them and all the links art strictly to help spread their brand and support their work.

This list isn't in any particular order either. I basically built it up as I found them and decided I wanted to help promote their work. Some of them I was already following and knew I wanted to feature while others I discovered while searching for great artists to add to the list.
While writing this page I learned a few things. For one, I've never been one to channel my emotions into my work all too often.
Many artists on this list embrace that and use art to help maintain a healthy mental state. There are a few other jewels and gems I discovered along the way too so keep reading to find out what.
If you're an abstract artist looking for other abstract artists on Instagram to follow for when you need to fill up the inspiration tank you should check out these inspiring artists I have collected here.

Give them a follow to keep your feed elevating!
Related Articles:
Art of The Abstract
This Instagram profile is created by Devon Mettlin. Devon is a burgeoning digital abstract expressionism artist pursuing his dreams of creation.

He first discovered his draw to the abstract from the strange allure a Rorschach test seemed to have on him.
This experience planted the desire in his brain to create abstract art. At first, he had no clue how to channel this desire but later on, he made a discovery that got the ball rolling. I will leave it to him to tell you his personal story on his website here!
Ever since he found the medium he could use to channel this strange draw the Rorschach test had on him he uses his art as his own personal form of therapy. An outlet to channel his ambitions and create the life he wants to live.
After catching up with him and getting a little further insight as to where he is at with his work and where he is still working a full-time job while he tries to get his art career off the ground.
I have to point this fact out because while he still works his full-time job he is spending about 30 hours a week outside of work to build this up. This is how it's done.
He's constantly making detailed posts that connect with his audience. It's not just about posting your artwork but it's about giving your audience a chance to get to know you.

He does a great job being responsive to those who comment and giving you a peek into the way he thinks by elaborating on what he sees in the works he produces.
The "Burnt Cotton Candy" piece above is one of his favorite pieces and marks a moment in time where he started using some new techniques to complete his works.
Follow his work on Instagram here to get a double dose of digital abstract expressionism innovation.
I think he is one to keep an eye on!
Sergio Gomez Art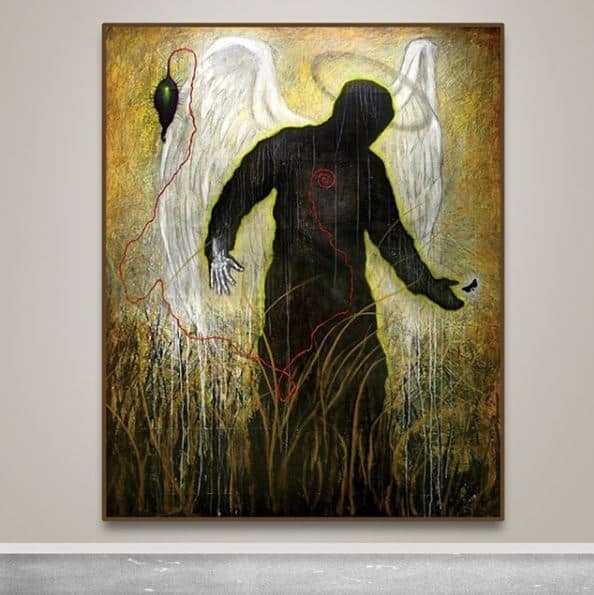 I'm not even sure where to start with this incredible artist. Sergio Gomez is an all-around amazing person with an awe-inspiring story.
First off, follow Sergio's Instagram profile by clicking here! He has a very particular style that he has honed over the course of his career.
Creating these huge works of abstract art that have these mysterious shadowy human figures in them.
To get a bit of insight on what the meaning is of these human figures lets take a look at his perspective on it.

The human form is the most important element in my work and it exists as an anonymous representation of the self. The figure dominates the work and it is depicted as a shadow, aura, ghost, or energy light.

Sergio Gomez
He not only has a vast portfolio of really intriguing art but also has a massive library of content with tons of information for help aspiring artists like you and me find our way.
If you've been looking for a great art podcast to listen to Sergio hosts "The Artist Next Level Podcast" which you can find here or by searching for it in your favorite podcast app.
I've been binge listening to it lately and there is a lot of great advice for artists in it.
Beyond that he also does "Breakfast with Sergio" over on his YouTube channel here as well as IG TV.
On top of doing all of this, he is also the Curator and Director of Exhibitions at the Zhou B. Art Center of Chicago, Director and founder of 33 Contemporary Gallery, co-founder of ArtNextLevel, and founder of Amplified Art Network.

While Sergio's diverse and accomplished record speaks for itself, the thing I like most about Sergio is his online hustle. In my opinion, he is a prime example of how to do this right in this day and age.

As a creator myself seeking to make a career out of this, I aspire to do many of the things that I see Sergio doing already. I certainly will be taking the time to comb through all of his wonderful content to learn as much as I can from him.
I could probably write a whole page on this man and his work but we have too many other artists to cover. Visit some of the links and explore it all when you get a chance.

Study what he is doing and teaching. You will learn a lot! I promise!
Leah Nadeau Art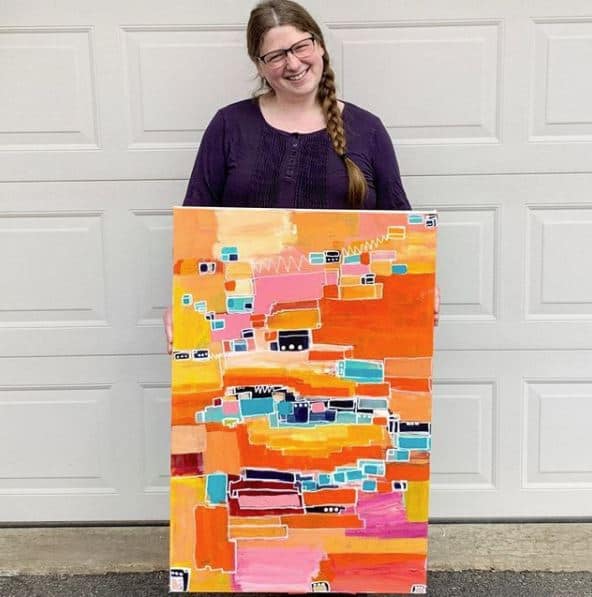 Leah Nadeau is an abstract artist whose painting journey began in 2015. Her creative build-up started well before that though.
Sometimes as artists, our origin stories are forged in the fires of hardship and pain. The traumas we experience leave an imprint on our minds and can cause deep-seated anxieties to arise.
We all have different ways these anxieties emerge and how we cope with them.
Then one day we just happen upon our creative outlet and suddenly everything falls into place. All the pain, struggling, and strife up until that moment suddenly finds a way to be released into the world.
Touching the hearts and minds of others out there who share in the same pain and struggles. That is how Leah's story goes.
To hear it from her perspective check out her about page on her site here!
Ever since she found a way to channel her anxieties and experiences into her colorful geometric artwork she has become that force to have an impact on the lives of others.
When she shares her current challenges with her audience there is a torrent of love and support from others out there who are experiencing the same challenges. They also love her amazing artwork too!
While her audience supports her through her personal challenges she returns the favor for her audience as well. Giving others out there fighting the same fight the strength to go on and perhaps channel their issues into their own works of art!
To me, this is what the art world is about these days. Being your authentic self and having the courage to share who you are with the world!
Beyond the details that drive her work, she also has a number of courses and resources on her site to help artists navigate Instagram. From one on one coaching sessions to how to do hashtag research so your posts get more exposure.
Learning to navigate Instagram and how to market yourself in today's online world is something we all must learn to do these days.

I highly recommend giving Leah a follow on her Instgram profile by clicking here! She will not fail to inspire you and fill your heart with the courage you need to be yourself!
Stefano Casati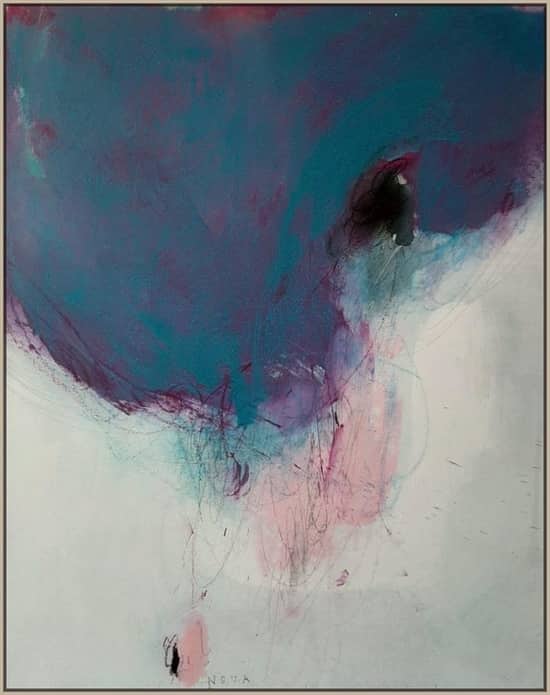 Stefano Casati is an Italian abstract artist that works in a variety of different mediums and substrates.

From acrylic and oil paintings on canvas to enamel and pastels on canvas cardboard.
He has been working in the field of art since 1997 where he began as an apprentice in art restoration. For more on his story check out his about page on his website here!
He rather recently in his career discovered his passion for abstract art in 2017 and since then he has been expanding his abstract portfolio.
It was about this time when he first got his Instagram going and today he has a growing audience of admirers.
Just like any artist out there, we all have our inspirations. It turns out that one of Stefano's inspirations is the Italian band Tonno.
As artists looking to sell our works sometimes we can feel confined to produce what sells.
The song Quando Ero Satanista by Tonno, found on YouTube here, has helped inspire Stefano to create this abstract work of the same title found on Instagram here!

It helped inspire him to shed those constraints and just paint what was in he truly wanted to paint. This is something I consider to be very important in my own work and in my opinion the source of all of the best art out there.

Don't let yourself be constrained by the expectations of others. Find the inspirations that will give you the confidence to express what's in your heart or on your mind!

Kenji Hoshi Art
Kenji Hoshi is an abstract artist from Hyogo Japan. I discovered his work while looking for artists to feature on this page and boy did it pop out at me!

I'm sure it is clear what I mean by examining the above photo.

He has a very unique abstract style where he creates these blots of paint that appear to be projecting off of the canvas leaving a shadow on the canvas.

I'm not entirely sure how he does it but it looks pretty darn cool to me!
He has been a professional artist since the 80's and has a very prestigious career having had his art in over 50 exhibitions! That's pretty impressive!
Over the years he has honed is craft into this unique three dimensional splash of color and depth. I had a very difficult time trying to dig up something unique and interesting on Kenji.
I really wanted to find some record of what his work looked like throughout the decades to get an idea of how he arrived at his current style. I, unfortunately, had difficulty digging up anything different from what his current style is.
One cool thing I did find about Kenji is that he also has a large portfolio of stock photos on the adobe stock photo website found here!
These would primarily be for someone like me out here creating content or perhaps a graphic designer. For the artist, it serves as a potential stream of income.
Which I'm always on the lookout for any stream of income artists should know. Diversifying your income streams is the best way to attain stability.
Especially in these trying times.
You can check out his artwork on Instagram and give him a follow by clicking here!
Fabienne Gourdon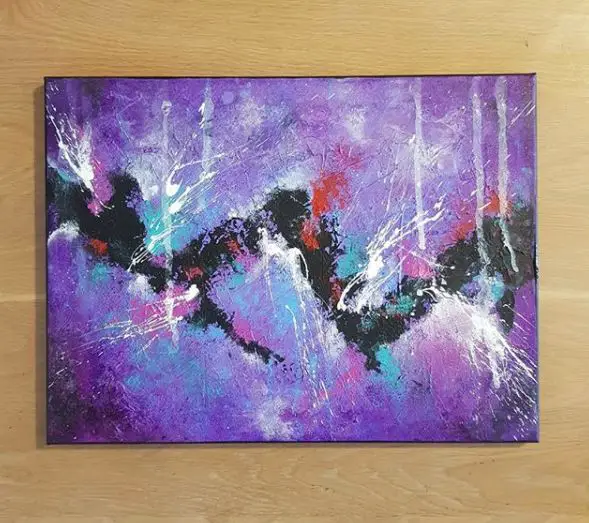 Fabienne Gourdon is a French abstract artist. I wanted to include this profile because I have found it a source of inspiration, to be honest.

She pops up in my feed now and then. Every time I think, "Oh I need to try something like that."
Luckily I was able to speak with her, thanks to Google Translate, and get some more details for you.
Fabienne is a 36-year-old artist from France just getting started in the abstract world. Painting for pleasure and fun. As we all should really!

I have followed her work for a little while now and watched her grow in skill and followers. Now that I'm picking apart her profile more deeply I am just now realizing who her main influences are.

One is one of my favorite artists John Beckly but the other artist I didn't know about.
It turns out Fabienne is heavily influenced by another abstract artist named Anthony Chambaud. Who also is on Instagram here!
I love Fabienne's work so much I of course had to give the source of inspiration a follow as well! Anthony is very talented and I can see why he is Fabienne's main source of inspiration.
I arguably should be featuring Anthony on this list but I'm eager to help up and coming artists find their way too.

After chatting with Fabienne for a bit it became clear that this is just a hobby for her right now. She happens to hold a perspective that I believe many people hold which is that it's hard to make a living off of your passion.

She's right in that it does take hard work and effort to get to where you want to be but I believe anyone can make a living off of what their passion is.
With all of the online platforms today you can build a global brand doing anything!

That said, that is not where Fabienne is currently at with her work and that is perfectly fine. We all start somewhere and not all of us want to go pro at it.
It's all up to you and what you want to do with your art! As long as you are enjoying the process and expressing yourself that is what matters the most!
Eventually though someone will say something that plants the seed of a thought that "I might actually be able to make a living doing this." Perhaps this article can be that moment for Fabienne.
If you want to watch Fabienne's progress follow her Instagram profile here!
Jonathan Todryk
Sometimes in life, we need to be pushed in the right direction. Whether it's by the circumstances that can just happen in life or by our loved ones.

This is what happened to get Jonathan Todryk on his pathway to producing the amazing abstract works that he does today. Check out his complete story on his bio page here!
Jonathan's work definitely caught my eye when I was looking for great artists to feature on this page. The dynamic textures and variations are stunning.
Upon closer examination, Jonathan uses a combination of materials to create works like the one you see above. One unique material he uses is acrylic latex concrete.
In his interview with Abstractmag.net, which you can read here, he talks about the experience of going to the hardware store looking for something to use in his work.

He is not the only abstract artist I have heard of who went to the hardware store to find unique materials and tools to use. I've dubbed it the hardware store approach!
I do believe my friend Mike McDonald mentioned that over in this article I wrote here on abstract painting acrylic painting techniques.
I was able to catch up with Jonathan and pick his brain a bit and he said something that struck me in a profound way.

He had mentioned he thought a lot of artists get too caught up in worrying about the archival quality of a piece. I admitted I was finding myself doing that as well as I got more serious with art.
Then he said:
My thought is if that the work makes it to museums there will be people there to figure out how to preserve it.

Jonathan Todryk
I thought this was a really valid point myself!

I still understand the concern of wanting to make sure your painting will last for whoever might buy it. That said, if we are concerned about it lasting centuries like some of the greats that are around today then there will be plenty of professionals in the museum to help ensure it's survival!
Should we ever be good enough to be considered worthy of such veneration.
By adopting this mindset we can free ourselves to explore other materials without this consideration weighing us down.
As one who has recently started working with different textures, I think Jonathan can serve as a good example to look to for inspiration.

Not just for the stellar techniques and combinations of materials he uses but his mindset as well.
To follow Johnathan in his work check out his Instagram profile here!
Venera Mor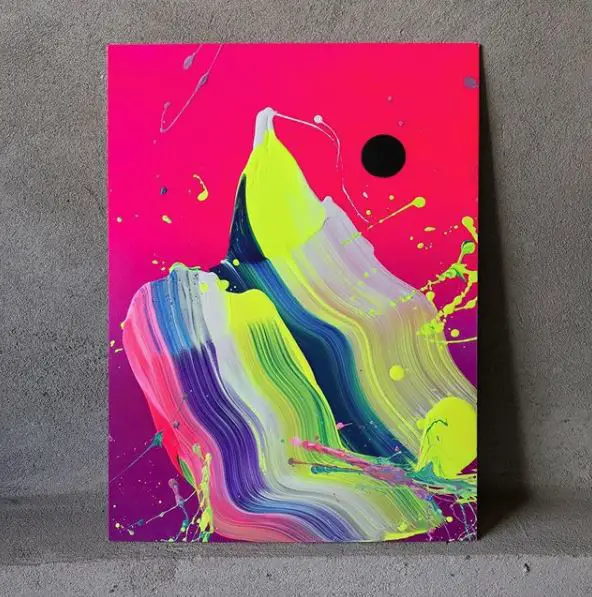 Venara Mor is a Russian abstract artist that works in acrylic using the most vibrant colors of the color spectrum!
At first glance, it looks like maybe they are made through some type of acrylic pouring method. It reminded me of the work that Callen Schaub does.
Luckily enough though Venera just recently released a video on her Instagram that demonstrates what her process is. Check it out here!
She doesn't do pours at all. It's more of painting in broad strokes.
She started her art career a few years ago in 2017 and has already been in numerous expeditions and auctions helping to get her art out into the private collections of Russian households.
According to her about me page found on her site here, she loves to create paintings full of energy. This is mainly why she prefers the bright pigments of florescent paints.
The pop and crackle with the energy she seeks to express.
Painting with very large brushes in broad swooshes is how she is able to make her brightly colored expressions.
I think what an artist chooses to name their paintings can tell you a lot about them as well. The fact that she named one of her paintings "Younger Dryas Drumlins" tells me perhaps she has an interest in ancient history.
According to Wikipedia, The younger dryas was a period that occurred about 12,900 years ago to about 11,700 years ago and drumlins are a land formation made by melting glaciers.
Go to Instagram and give Venera Mor a follow!
Other Artists You Should Follow Too!
I wanted to bring you a comprehensive list and in an effort to find something unique to each artist above I fear I have begun to make this page a bit too long.

Not that the following artists aren't worth the in-depth investigation I just need to move on to other content at this point. There are far too many amazing abstract artists on Instagram to cover them all in detail.

With so many abstract artists out there and only so much time to complete this content, it was truly hard to decide who to include on this page.
Perhaps I will continue to add to this page and list over time but I hope for now you are able to at least find some awesome artists to boost your motivation, stimulate ideas, and inspire your abstract obsession!