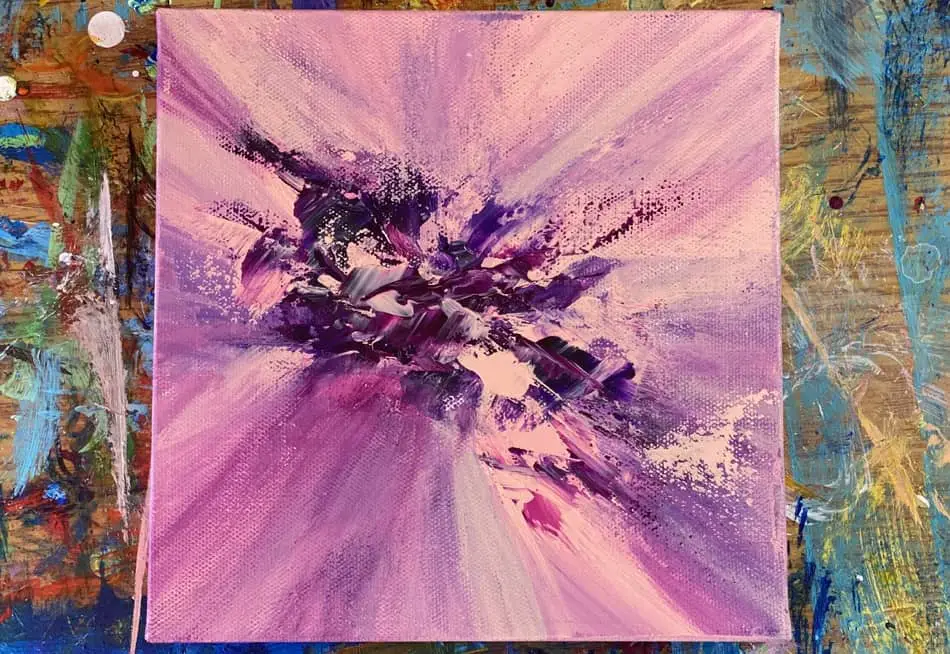 When it comes to great palette knife artists out there that you might want to study there are many to choose from. I have gone around and collected some up for us to take a look at.
All of these artists produce amazing palette knife paintings.
I've gathered them up from YouTube, Instagram, and even TikTok to create a resource of artists for us to refer to when we need a bit of inspiration.
With some of them being on video platforms or releasing videos of themselves at work we can also study their techniques too!
At the very minimum we can get the juices flowing to primed to create.
Related Articles:
Suraj Fine Arts
Suraj is an abstract painter from India. His channel has many videos of him making paintings with a palette knife.
While many of his videos say they are for beginners he doesn't ever explain anything that he is doing. In fact, you rarely ever see him at all.

We can however observe and attempt to copy his techniques in order to learn them. He uploads a new video like this nearly every day so have a look at his video catalog on YouTube.

This is actually somewhat of a trend on YouTube right now. I think all of the YouTube artists on this list are currently taking that approach.
You can follow Suraj on YouTube, Facebook, and Instagram.
I'm hoping to break this trend in the abstract community by creating my own series of YouTube videos that helps to analyze what these artists are doing for those who have trouble learning the techniques without any explanation. Check out my channel here!
Ray Grimes Fine Art
Ray Grimes is another palette knife artist who has grown a vast following on YouTube in the past few years.
Located in the United States, he clearly loves his vibrant colors and displays a number of interesting palette knife techniques to try.
It looks like Ray has hit a nice stride of uploading twice a week. Personally, I think if you're going to join in on this YouTube trend that this is a better cadence than uploading every day.
Either way, for what we are interested in right now this is great!
When one wants to grow as an artist I think it is a good practice to get in the habit of finding those who are already doing what you want to do and studying their work. Success leaves clues!
You can follow the work of Ray Grimes on YouTube, Instagram, and Facebook. You can buy his work on his website or on his Etsy store.
Oliver Maass
Oliver Maass is another abstract artist coming to us out of Germany!
Yet another amazing artist who produces a lot of palette knife painting videos on YouTube.
He doesn't seem to be producing them in nearly as much volume as Suraj or Ray is but he still has plenty of content to take a look at.

His style of painting and techniques are very similar to Ray's.

They both seem to do this thing where they use a palette knife to layer a bunch of colors in a swoop on the canvas. They get the textured look they are going for in a particular area with the palette knife.
Then they carefully and lightly dry brush it outwards. I love this style of painting and they aren't that difficult to do either. You should give it a try sometime yourself!
Oliver can be followed on YouTube, Instagram, and Facebook.
If after watching some of these guys you feel inspired but you're still not sure where to start, check out this page here on The Principles of Art that help make up a good abstract painting.
Krista Schumacher Art
Krista Schumacher is a palette knife painting artist currently residing in California.
She works in oil paints but her talent is outstanding. The vibrant colors and textures she gets are certainly results worth striving for.
Of all the artists featured so far her works are definitely something to behold. The daughter of Kathy Schumacher, who is next on our list, she has made a name for herself in her own right.
She has been featured in 16 publications, has experience as an educator, and has won 4 awards thus far in her young career!
In the video above we get a brief glimpse into her processes. Hopefully she starts releasing more just like it soon. There aren't enough palette knife artists on YouTube demonstrating their techniques.
You can view more of her work on Instagram, Facebook, and website.
Kathy Schumacher Art
Kathy Schumacher is a palette knife artist to her core. Perhaps that is why her daughter is so good at it too.
Currently residing in Florida, her vibrant works speak for themselves.
"A paint brush gives and artist control, but with a palette knife, I am able to stay loose, merging colors and sculpting wet paint into a dynamic final product."

-Kathy Schumacher
This is the sort of insight and mindset we are looking for with this page. How do these masters of the palette knife think? How might we be able to adopt that thinking in our own works?
This minor glimpse into her thinking gives us a bit to work with.
Neither Kathy nor her daughter, Krista, have any YouTube presence so it's hard to learn from their techniques in practice but we can at least admire their results and strive for something similar.
You can follow Kathy and her work on Instagram, Facebook, and her website.
Misun Holdorf
Misun Holdork is an abstract palette knife artist originally from Seoul, Korea whose colorful work will lift your artistic ambitions.
She currently resided in California and won first place for top 100 artists in San Diego in 2016.
The level of texture she is able to get adds a level of detail to her floral paintings that I haven't quite seen before. It's really awesome how she uses the paint to create a three-dimensional texture to the flower pedals.
She paints using oil paints and displays a mastery of the knife like few artists I've seen thus far. You can tell she has been inspired by her many travels she had when she worked in the airline industry.
Perhaps a hint of all of the tropical places she has lived in in her life.
You can follow Misun and her work on Instagram, Facebook, and her website.
Leonid Afremov
The late Leonid Afremov is one artist whose paintings you may have seen around if you have spent any time in the art nooks of the internet.
His body of work is prolific and his talent is among the best on this list. Fortunately we do have some videos like the one above of the man himself at work!
He was a Russian-Israeli who spent his life making the world more beautiful with his eye capturing oil paintings.
He embodies the definition of what a palette knife artist is and can be.
Unfortunately he passed away in August of 2019 but before he did he had an autobiography written that is quite special.
Not only because there are limited copies to buy but also because it boasts an Augmented Reality feature allowing the pictures in the book to be brought to life digitally on your phone or iPad. This speaks to the geek in me eager to see an Augmented Reality filled world so I had to mention it!
Even though Leonid is no longer with us anymore his relatives appear to be keeping his Instagram active. You can still check out his work on his Instagram, his website, and his Facebook account.
Joelle Blouin
Joelle Blouin is a French Canadian artist that paints exclusively with palette knives only.
The exact kind of artist we want on this list, she too works with oil paint creating colorful cubist inspired styled paintings.
She had her first gallery opening in 2008 and since then has expanded from Canada to the United States. Showing her work in galleries in both countries.
Named one of the top 40 artists to watch by Art Business News Magazine, I can't say I disagree with their assessment.
She has dubbed her style as "Urban Cubism". I'm not big on labels like this but I certainly like her urban cubist flare and am feeling inspired to attempt this style myself!
You can check out her work on Instagram, her Website, and the Signature Gallery that hosts her work. She also has a minor presence on Pinterest.
Lisa Elley
Lisa Elley is a palette knife artist whose journey originates in New Zealand. Through her journey, Lisa has found her way to the San Francisco bay area where she now makes her impressive works of art.
She has a style that is very similar to Misun Holdorf's in that she does a lot of floral palette knife paintings that have a thick amount paint on them creating a level of texture to the flowers she paints.
When comparing the two different artists you can see even though their paintings are inspired by the places they have traveled to and experiences that they have had to make their works distinctly different from each other.
As artists aspiring to improve our palette knife skills perhaps this is a detail we can try ourselves? Not just drawing inspirations from our own personal travels but to layer the paint on thick and add that extra texture.
One of the most interesting things about Lisa is her use of TikTok. She is the only palette knife artist on this list utilizing TikTok which was where I originally found her work.
It's certainly an account for the TikTok case studies I plan to do later on. It's mind boggling the sorts of things that can rack up the views and get distributed on TikTok.
You can follow Lisa and check out her work on her Instagram, TikTok, her website, or even Ugallery.
Paintings by Dusan
Shortly after I initially published this article, this channel started popping up in my YouTube recommendation feeds.
Of course, since I had just written this article on palette knife painting artists I had to check out his content. I'm glad I did!
Dusan is an artist from Perth, Western Australia.
He has a vast catalog of videos showing him making a palette knife painting from start to finish complete with relaxing background music. Just like the video above, he shows how he wields his pointed palette knife to make these beautiful abstract landscapes.
This is a common style of art video that I feature a lot on this site. While they don't explain what they are doing we can still learn a lot by watching and analyzing their demonstrations.
If that is something you have trouble with discerning yourself through observation, no worries, that is part of what my mission with this site and my own channel are seeking to resolve and help with.
That said, after discovering the brilliant artwork of Dusan had to come back to add him to this list!
If you're feeling inspired to get started with abstract painting but aren't sure what sort of tools you should get I wrote a great article on tools and techniques for beginner abstract painters.
Check it out next by clicking here!
When it comes to great palette knife artists out there that you might want to study there are many to choose from. I have gone around and collected some up for us to take a look at.
All of these artists produce amazing palette knife paintings.