From Augmented Reality to Virtual Reality, our art realities are expanding. Our mediums are proliferating. The art-world is becoming further de-materialized and digitized.
In my previous post, I covered augmented reality (AR) and what it is. Today we are going to get into the virtual reality apps for artists you can try as well! That is if you have a virtual reality headset of your own. There are quite a few to choose from these days!
So virtual reality (VR) is different from AR in that it provides the user with a fully immersive experience. Where AR puts images on the real world, VR takes you out of the real world entirely.
I currently have the Occulus Quest VR headset. If you have never used VR before and have $400 to spare I highly recommend it. It was well worth the money and is this first all in one VR headset you can get that doesn't require additional computing power.
I will likely continue to cover the world of virtual art here and there as the progression of the digital realm is one of my many interests.
That said, there are currently four art games available on the Quest. Of the four, I currently only have one and have tried another one.
One of the first virtual reality art programs to emerge was Tilt Brush. I remember trying it a few years ago on my friend's Playstation VR headset. The cool thing about Tilt Brush is it allows you to create a whole three-dimensional scene that you can then move around in.
This work below is actually inspired by a Virtual Reality game called Red Matter. It is a pretty awesome example of this virtual reality art app for artists to build 3-dimensional images.
You can view and move around the virtual painting by clicking on the image above. Give it a try! There are plenty of other works to explore on their website as well. Check it out here!
After seeing a few of the awesome works posted on their website I may need to pick up this virtual reality art app for myself.
The one that I currently have, and the one that has possibly the highest review rating I have seen in the Occulus store, is Kingspray Graffiti. In case it isn't obvious by the name it is all about the art of graffiti.
This was my very first work in the game! It is terrible but I figured I would post it anyways. I also did the image at the top of the post in Kingspray as well.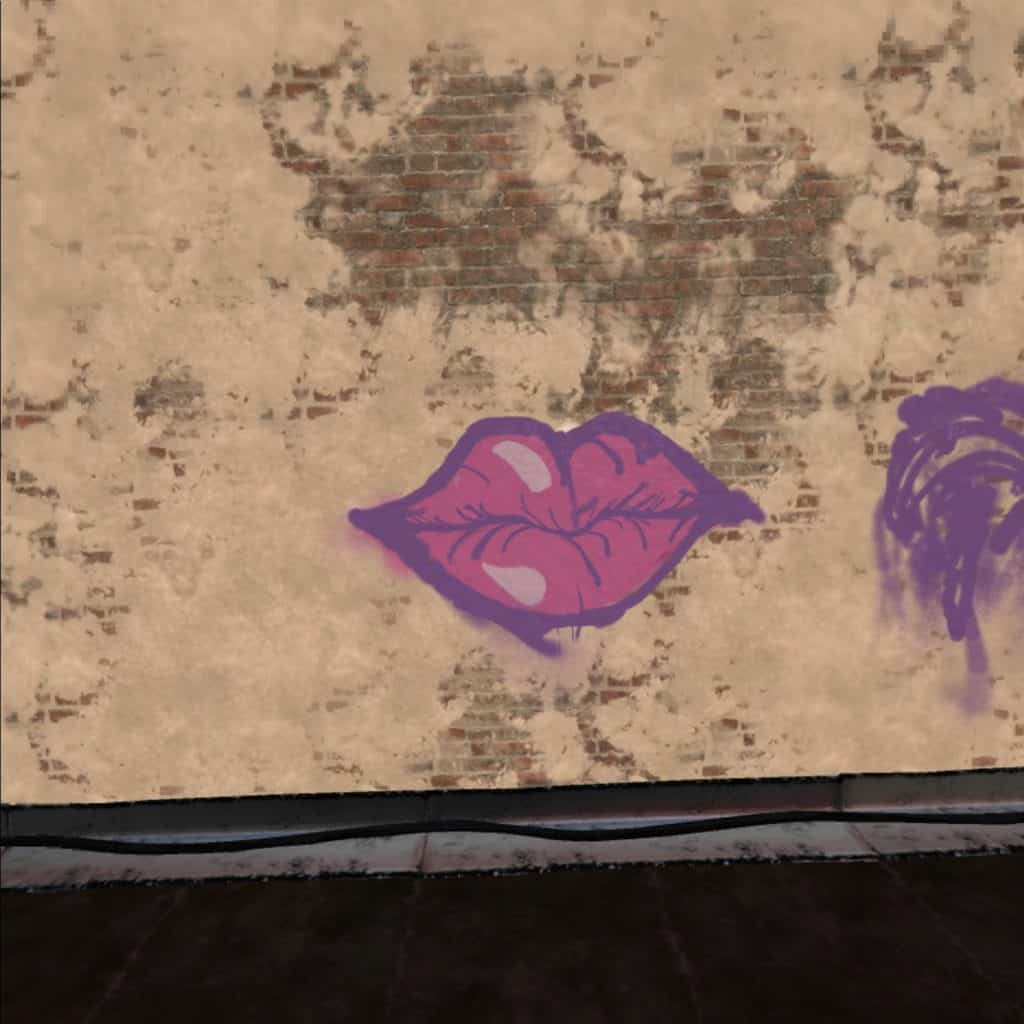 It really makes you feel like you are working with spray paint and actually doing graffiti. I don't know how accurately it compares with true graffiti but it definitely has an immersive feel to it.
Offering easy access to an array of colors you can select from the color wheel in your left hand or rotate through shades of colors in your right. For those of us who have never worked with real cans before this may spoil us and prevent us from ever trying the real thing as a result.
I can't imagine having such a selection of color options in real life. Having such a vast selection would probably cost what the Occulus headset itself costs.
When you are working on a large work in Kingspray you can use ladders, bricks, and pallets to stand on so you can reach higher points on the wall. It took me a little bit to figure that one out.
When you go to save it takes out a smartphone that you can use to take a picture of your work. This picture saves specifically to the work area you are in. This confused me at first when I was working on a different map and tried to look at my saved works to load up. So keep in mind once you are in an environment if you want to access a save from another environment you will need to go back to the main headquarters.
This virtual reality art app is a good way to have fun with spray painting large murals without the hassle of getting all the paint or the potential need to evade the cops.